RBS on the mend - again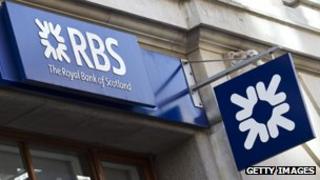 Having stalled a bit during last year's eurozone crisis, the recovery at Royal Bank of Scotland seems to be picking up some momentum again.
Its operating profit bounced back to £1.18bn, up very fractionally from the beginning of last year and - importantly - a big swing from the £144m loss for the fourth quarter of 2011.
One encouraging trend for the bank and the economy was a fall of more than a fifth in losses from loans going bad.
But the picture given of demand for and supply of credit to small businesses - economically and politically important - is mixed. RBS said the rate at which its customers were repaying debts, an important gauge of their health and confidence, slowed down sharply from the end of last year.
Including volatile and arguably misleading accounting adjustments, such as what it would cost for RBS to repay its debt, RBS made a loss of £1.4bn, but this was sharply lower than at the end of last year.
The bank announced what its chief executive sees as important milestones of rehabilitation: by next week it will have repaid all its loans from British taxpayers, which were £75bn at the peak (and which I mentioned last night); and it will start to resume dividend payments on part of its capital, though not yet its ordinary shares.
That said, RBS is still a hugely long way from being in a position where taxpayers could realistically hope to avoid a massive loss on the £45.5bn of equity capital they injected into RBS during the crisis, to provide a cushion against future shocks. At market prices, taxpayers are facing a loss of £23bn on this 81% stake in the bank.
The hugely challenging question for the Treasury in the coming few months is whether to accept a loss on initial sales of taxpayers' shares in the bank - in the hope that in some nebulous way, a slightly less nationalised bank will be a better performing bank.
But before any kind of privatisation can happen, two other milestones need to be passed: Royal Bank of Scotland needs to withdraw from the Asset Protection Scheme, the profitable arrangement for the public sector by which taxpayers insure RBS's lower-quality loans and investments; and there needs to be an announcement of when dividend payments will resume on all the shares.