Airbus and Boeing hit by plane cancellations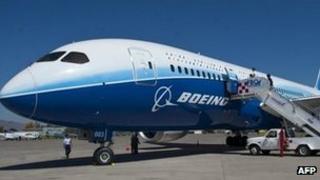 Airlines have cancelled a total of 32 orders for planes so far this year, according to data from the world's two major plane makers.
US giant Boeing said it had 25 orders of its flagship plane, the 787 Dreamliner, cancelled by airlines without naming who they were.
European rival Airbus has had seven A350 orders cancelled by Etihad Airways, the Abu Dhabi-based airline.
The cancellations reflect the difficult travel market and weak global economy.
The numbers emerged in both firms' end-of-month order figures.
For Boeing, the 25 Dreamliner cancellations compare with 19 orders so far this year, meaning the plane maker is in negative territory for its flagship plane.
Based on list prices, it would cost the airline about $193.5m (£119m).
But in terms of total orders for all planes this year, Boeing retained a large lead over Airbus.
Boeing's order book stood at 415 on 1 May, against 95 for Airbus on 30 April.
It is Etihad's second cancellation in four months and takes its order of 25 A350-1000 planes, made in November last year, down to 12.
The seven aircraft are worth $2.3bn at listed prices.