Cash machines set for charitable donations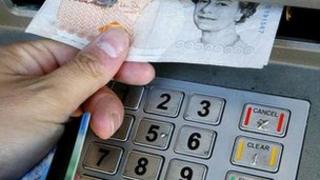 More than 12,000 cash machines in the UK are set to allow charitable donations from this summer, the government has announced.
Royal Bank of Scotland cash machines and those owned by independent operator Bank Machine will be the first, with others expected to follow.
The banks will select eight charities which people will be able to choose from when they use a cash machine.
People using a debit card will be able to donate between £1 and £250.
HSBC already offers its customers the opportunity to donate to charity through its 3,650 cash machines, in a scheme that has been running since 2005. HSBC says £341,623 was donated in 2010.
The new donation system is to be rolled out through the Link network, which includes more than 64,000 cash machines in the UK, but the initial phase includes only the 12,000 owned by Bank Machine and RBS.
HSBC says charities on its scheme can claim gift aid, as it can supply customers' details, a feature not available on the Link scheme, according to HSBC.
The government has been looking at ways to make it easier for people to give small amounts to charity.
"By making it possible to add donations at cash points we can make an even greater difference to other people's lives," said Nick Hurd, minister for civil society.
"It's important that as a government we bring public sector bodies, businesses and civil society organisations together to find new ways to support charitable and voluntary action."
'Social norm'
Bank Machine said it had received registrations of interest from more than 550 charities.
"We have asked an independent panel to decide which charities will participate as we want to ensure that as many worthy causes as possible are able to take part," spokesperson Melanie Knight said.
The plans for increasing charity giving were laid out in government proposals at the end of 2010.
The government's consultation called on UK banks to look at copying a system pioneered in 1998 by Servibanca in Colombia, which allows customers to make a donation each time they withdraw cash.
It called for charitable giving to become a "social norm" and for public services to be encouraged to take on more volunteers.
At the time, the Labour Party welcomed the Green Paper but warned it would not stop the cuts facing charities.