Air India sacks 'sick' pilots amid training dispute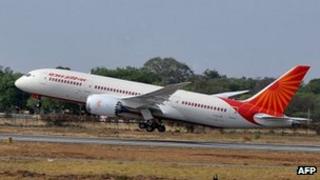 Air India has fired 10 pilots after dozens of them called in sick amid a dispute over training for the new Boeing 787 Dreamliner planes.
The airline has derecognised the Indian Pilots' Guild and its office is being sealed, an Air India spokesman said.
Civil aviation minister Ajit Singh called the strike "illegal".
The pilots are protesting against the decision to train pilots from Indian Airlines, which merged with Air India in 2007, to fly these planes.
Air India pilots have said the planes were ordered before the merger, so they should be preferred for training.
According to reports in the Indian media, another 150 pilots were expected to miss work later on Tuesday.
Air India said it had cancelled four international flights due to the unavailability of pilots.
Growing troubles
The strike is the latest in a series of problems for India's national carrier.
Rising fuel costs coupled with increased competition have seen the carrier make heavy losses, raising concerns about its future.
To make matters worse, the airline's debt levels have been rising.
Earlier this year, three state-owned oil firms halted supplies to the airline for almost four hours for non-payment of dues.
The airline's dwindling fortunes have seen the government come to its rescue.
Last month authorities approved a debt restructuring plan and said they would inject 300bn rupees ($5.9bn; £3.7bn) into the airline by 2020.