Tui Travel bullish about outlook for summer bookings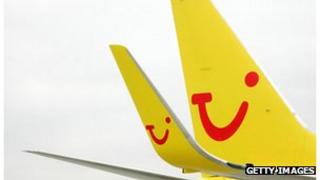 Tui Travel has said that it is upbeat about the outlook for summer bookings.
As of 29 April, the firm reported bookings were up on last year in all its markets except the UK and France.
Europe's biggest travel group also reported a 3% rise in revenues over the last six months versus a year earlier.
However, the firm's loss before tax for the winter period increased 25% to £457m ($283m) , while its operating loss - a better measure of underlying performance - rose 3% to £317m.
Travel firms typically make a loss over the winter, before returning to profit during the peak summer period.
Among the factors dragging down Tui's profitability were a loss of bookings from the Nordic region due to the floods in Thailand, and problems at its French subsidiary Corsair.
Bookings in France continued to do badly - down 16% from a year earlier at the end of April.
In the UK - which accounts for a quarter of its business - bookings were off 6%, largely due to general weakness in the UK market.
But in Tui's biggest market, Germany, bookings were up 3%.
"We are pleased with our overall performance for the first half," said chief executive Peter Long.
"The UK delivered a strong Winter performance... Our outperformance in this market is continuing into the summer season and we will ensure that we continue to optimise our position."