Carlos Slim to buy 28% stake in Dutch telecom KPN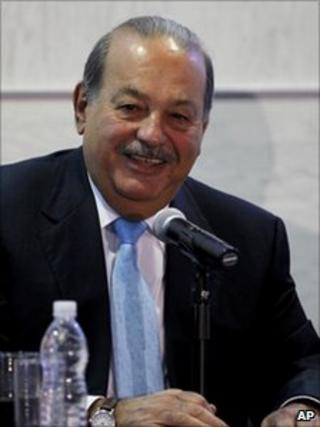 The world's richest man, Carlos Slim, is to buy up to 28% of Dutch telecom KPN in his first big foray into Europe.
Shares in KPN were 16% higher by Tuesday afternoon after the 3.2bn euro (£2.6bn; $4.2bn) deal was announced.
The Mexican tycoon will offer to buy KPN shares via his company America Movil, the main mobile operator in Latin America and the fifth biggest telecoms group in the world.
KPN said that the investment showed that its shares were undervalued.
Before Mr Slim's investment was revealed, shares in the troubled company had lost half its value since April last year, when it announced that it would cut a quarter of its workforce as it sought to address tough competition and weakening demand.
In December, the Dutch telecoms regulator said it would investigate whether KPN had broken consumer protection and competition laws, while in January, the firm's chief financial officer resigned because of disagreements with its recently appointed chief executive, Eelco Blok.
"It is moderately positive," said a KPN spokesman of the share sale. "We think this is a recognition of the company's undervaluation."
KPN revealed that it was already in discussions with America Movil about co-operation over purchases and roaming rights.
The Mexican firm will offer to pay eight euros per share for its Dutch counterpart, 23% above their closing price on Monday.
Investors in America Movil were less enthusiastic about the deal than those in KPN. The Mexican firm's share price fell 7% at the open of trading in New York on Tuesday.