China buying oil from Iran with yuan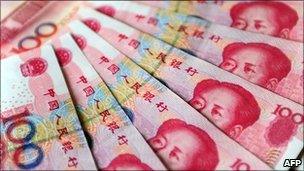 China is buying crude oil from Iran using its currency the yuan, an Iranian diplomat has said.
Oil transactions are usually settled in dollars but US sanctions make it difficult for Iran to accept payments in the US currency.
Iran is using the revenue to buy goods and services from China, Mohammed Reza Fayyad, Iran's ambassador to the United Arab Emirates, confirmed.
China is the biggest buyer of Iranian crude oil exports.
The country buys some $20bn-30bn of oil from Iran each year, but the US has been pressuring Beijing to join an international boycott of Iran over Tehran's nuclear programme.
The Iranian ambassador's comments, reported by the Reuters news agency, confirmed a report in the Financial Times that claimed that Unipec - a subsidiary of the Chinese state-owned oil firm Sinopec - was buying the oil, as was another company called Zhuhai Zhenrong.
Meanwhile, China has been trying to promote usage of yuan as an international currency as a rival to the dollar, including the establishment of a new offshore trading centre in London alongside the existing centre in Hong Kong.
According to the FT report, China has been providing the currency to Iran via Russian banks rather than its own domestic banks.
The US plans to implement a round of sanctions, starting on 28 June, against banks based in countries that do not cut their oil imports from Iran.
The US and its western partners suspect Iran of using its nuclear programme to develop the capacity to make atomic weapons.
Tehran says the programme is solely for civilian purposes.
The US has already said it will not apply sanctions to banks in Japan and 10 EU countries, after they all agreed to cut their imports from Iran.
China, India and South Korea, now find themselves at the centre of current US lobbying efforts.
China has already cut its imports from Iran by half in the first three months of this year, although this was mainly in order to negotiate better trading terms with Tehran.
It is unclear whether the cuts will be continued into the rest of the year.
China is highly dependent on crude oil imports, and petrol prices in China have been rising sharply this year.