Merkel letter to Francois Hollande urges co-operation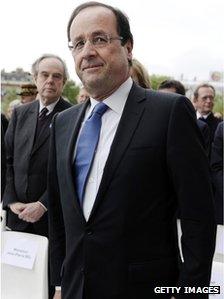 German leader Angela Merkel has written to the newly elected French President saying "necessary decisions" must be taken to resolve the debt crisis.
Mrs Merkel said she was sure the co-operation between the two countries would "continue to strengthen".
She has resisted calls from Francois Hollande to renegotiate a European pact requiring government budget cuts.
German Finance Minister Wolfgang Schaeuble has also said France will stick to the terms of the pact.
"The commitments on deficit reduction that every country in Europe has undertaken will be upheld also by France," he told German television.
"I have absolutely no doubt about that. How France puts together its budget within the framework of the European commitments is up to them."
Mr Hollande had campaigned to renegotiate the pact, which requires governments to balance their budgets, in order to focus more on growth rather than austerity.
Meanwhile, Jose Manuel Barroso, the president of the European Commission, said that countries must strike a balance between efforts to boost economic growth and cutting their deficits.
"At the heart of our response [to the eurozone debt crisis] has been a twin-track approach of stability and growth, that means restoring trust to our public finances," he said.
"So I am extra pleased to see the momentum that is building in our member states to kick-start the stalled engine of European growth."
A meeting of EU leaders has also been scheduled for 23 May to discuss the pro-growth reforms preferred by Mr Hollande and agree the agenda for a formal summit to be held at the end of June.
The Brussels meeting will give the French president-elect a first opportunity to pitch his ideas to colleagues - although it will follow summits of the G8 and Nato this month, where Mr Hollande will be able to speak to his German and Italian counterparts.
"It is up to us to take the necessary decisions for the European Union and the eurozone, to prepare our societies for the future and protect and advance prosperity in a sustainable way," Mrs Merkel wrote in a letter congratulating Mr Hollande on his election victory.
"I look forward to continuing with you on the path of assuming our shared responsibility for Europe and to working for the benefit of our countries and Europe."
However, she has already ruled out renegotiating Europe's recently agreed fiscal pact, in which 25 of the 27 EU member states signed up to strict budget limits.
But Germany has suggested that a separate pact, to create growth and increase competitiveness, may be possible.
The eurozone is widely expected to return to recession this year, with some blaming spending cuts and tax rises by national governments, particularly those of southern Europe who are struggling to get their borrowing back under control.
Unemployment in the eurozone rose to 10.9% in March. In Spain it rose above 24%, while the youth unemployment rate is greater than 50%.
Mr Hollande won Sunday's election in part due to his hostility towards the focus on austerity pursued by his predecessor and Mrs Merkel.
The pro-growth measures he has called for include:
the introduction of Europe-wide government bonds to finance infrastructure investment
a reallocation of unused structural funds in the European Commission budget
an increase in lending by the European Investment Bank (EIB) to support investment
a financial transactions tax
As well as ruling out any renegotiation of Europe's recently agreed fiscal pact, Germany has consistently opposed any proposal for Europe-wide government bonds.
However, Mr Hollande's proposals for structural funds and the EIB have had a more positive reception.
Jean-Claude Juncker, chairman of the Eurogroup of finance ministers, said last week that he would back a 50bn-euro ($65bn; £40bn) increase in the EIB's capital - something that would increase the bank's lending capacity by several times that figure.
It is unclear who, if anyone, will represent Greece at the meeting, after the country's own elections on Sunday.
The leader of the left-wing Syriza bloc has begun attempts to assemble a government after the centre-right New Democracy party failed to form a coalition.
The continued uncertainty in Greece led to European stock markets to close lower, and the euro to weaken for the seventh day in a row, falling against the dollar to $1.30 and to 80.6 pence against the pound.
By the time of the 23 May meeting, Greece's constitution requires that either a new government must have been formed or else new elections must be called.
Related Internet Links
The BBC is not responsible for the content of external sites.