Pension deficits balloon again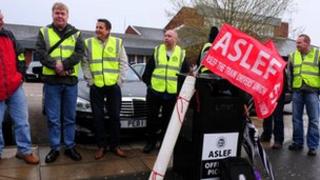 The collective deficit of the UK's private-sector, final-salary, pension schemes has risen again.
The deficit rose by £11bn in April, to £217bn, according to the Pension Protection Fund (PPF).
This was a huge increase on a year ago, when the deficit stood at just £8bn.
The National Association of Pension Funds has blamed the Bank of England's policy of quantitative easing (QE), saying it has raised the cost of paying for pensions.
QE has driven up the price of government bonds and, because they pay a fixed income, reduced the yield that investors gain by buying them.
Because the cost of paying for pensions is often bench-marked against the return on bonds, QE has had the knock-on effect of driving up the estimated stock of assets that pension schemes need now, in order to pay all their pension liabilities in the future.
QE had "pushed final salary pension funds £90bn deeper into the red since the second wave of quantitative easing (QE) totalling £125bn started in October 2011," the NAPF said in March.
The combined deficit of the 6,432 schemes measured by the PPF is not yet back to a record high.
That was reached in December 2011 when it touched £255bn.
"Over the month, scheme assets fell by 0.6% and over the year there was an increase of 4.5%," the PPF said.
"Total scheme liabilities were £1248.2bn at the end of April 2012, an increase of 0.4% over the month and an increase of 25.4% over the year," it explained.