FTSE 100 bosses' pay 'rose 11% last year'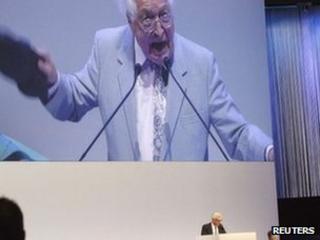 The typical pay of bosses at the majority of the UK's largest publicly listed companies rose 11% last year to £3.65m, according to research done on behalf of the BBC.
Manifest, the adviser to shareholders, calculated the research based on data from the 60% of FTSE 100 companies who have published their annual reports.
The news comes amid shareholder revolts over high executive pay.
On Tuesday, insurance firm Aviva said boss Andrew Moss will be leaving.
Pay at firms in the UK in general rose by just 1.1%, according to the Manifest calculations.
While pay rose at big corporations for chief executives and executive chairmen, shares of FTSE 100 firms shed 6.6% of their value last year.
'Back to reality'
Shareholder votes on pay are not currently binding, but the government is looking at changing the law to make boards more accountable to their investors.
The Department for Business is consulting on legislation that would mean pay deals require the support of 75% of shareholders.
"What we are looking at is strengthening the powers that shareholders have over their companies, including binding votes," Business Secretary Vince Cable told the BBC.
"We want to strengthen the current shareholder activism... where executives who are being paid way in excess of their performance are being brought back to reality by the people who own their companies - and that is exactly how things should be done."
Aviva last week suffered the embarrassment of losing a shareholder vote on executive pay at its annual general meeting last week, the latest company to face pressure from investors unhappy that pay levels do not reflect performance.
And almost half of voters were against betting chain William Hill's pay award on Tuesday.
Investors complained about the £1.2m bonus paid to chief executive Ralph Topping, which is not linked to performance.
Companies including Barclays bank, miner Xstrata and Premier Foods have faced shareholder revolts at their annual meetings in recent weeks.
"Shareholders are saying that if they're not being enriched, executives should not be sleeping on huge piles of cash," said the BBC's business editor Robert Peston.
"In other words, the trend is of growing activism by shareholders to prevent unmerited rewards, or excessive pay relative to how the business is doing. It is not a campaign against big pay per se."
The Manifest data for total remuneration awarded includes the fair value of long-term incentive awards, including share options.
The actual payouts will not be known for several years.