Toyota profits jump amid recovery from disasters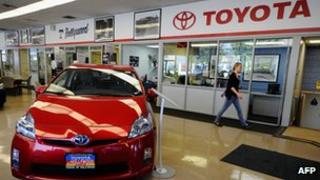 Toyota's fourth quarter profits have jumped five-fold amid a recovery from last year's natural disasters and a pick up in the US car market.
Net profit was 121bn yen ($1.5bn; £940m) in the three months to the end of March, up from 25.4bn a year earlier.
For the full year, profit fell 30% to 283.5bn yen, as disasters and a strong yen hurt earnings earlier in the year.
The firm has forecast a net profit of 760bn yen in the current fiscal year.
"Our vision is to establish a strong business foundation that will ensure profitability under any kind of difficult business environment," President Akio Toyoda said in a statement.
Sales forecast
Toyota's fortunes were hit by a variety of factors in the past 12 months.
The earthquake and tsunami in Japan disrupted the country's supply chain, resulting in production being halted in Toyota's factories both at home and abroad.
Just as the firm was recovering, it was dealt another blow by floods in Thailand which hurt production later in the year.
The loss of production also hurt the company's sales as customers had to wait for longer periods to get the delivery of their cars.
However, the firm has seen its production come back to normal levels since then. That has also translated into increased sales, especially in the US, which is one of the biggest markets for the firm.
It has also introduced new models in an attempt to attract customers back to its showrooms.
Last week, Toyota reported that its sales in the US had risen by 11.6% in April from a year earlier, outpacing the overall growth in the US car market.
"Toyota is on a firm and fast recovery track as production from all key sites is returning to normal," said Song Sang-Hoon of Kyobo Securities.
Encouraged by its recovery, the firm said that it expected to sell 8.8 million vehicles in the current financial year, an 18% jump from last year.
Yen threat
Along with the natural disasters, Toyota has also had to battle a strong Japanese currency.
The yen rose by as much as 10% against the US dollar between April 2011 and February 2012, despite efforts by the Japanese central bank to stem its rise.
It rose to 76.29 yen against the US dollar in February 2012, from 85.33 yen in early April last year.
It was trading close to 79.80 yen against the US currency on Wednesday.
A strong currency causes problems for firms such as Toyota, which rely heavily on overseas sales for growth.
It not only makes their products more expensive to foreign buyers but also hurts profits of firms when they repatriate their foreign earnings back home.
Toyota said that fluctuations in the yen over the past year had dented its earnings by as much as 250bn yen.
Analysts said that despite the recovery in Toyota's fortunes, the volatility of the yen remains a big threat to its earnings.