Dresdner Kleinwort bankers win unpaid bonus battle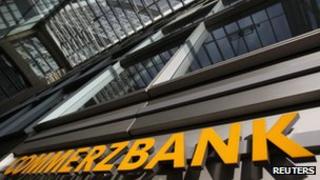 A group of 104 London-based bankers has succeeded in a court action against Commerzbank to claim unpaid bonuses worth more than 50m euros (£40m).
The bankers are all former employees of Dresdner Kleinwort, which was taken over by Commerzbank at the end of 2008.
Individual claims ranged from 15,000 euros to two million.
Commerzbank said it would appeal against the High Court decision, which came after a legal battle lasting more than two-and-a-half years.
The ruling came on the same day that Commerzbank reported worse-than-expected three month results, hit by the Greek debt swap and weak trading.
First-quarter net profit came in at 369m euros ($479m; £297m), down 63% from the same period last year.
Commerzbank took part in the Greek debt swap and the sold almost all of the new bonds it received, losing 69m euros in the process.
Eurozone woes
Germany's second biggest lender said the eurozone debt crisis would continue to hit its earnings.
"The high degree of uncertainty associated with the European sovereign debt crisis will continue to pose a challenge to the bank's revenue situation," its chief financial officer Stephan Engels said.
Last year, it was reported that Commerzbank almost had to be nationalised because of its holdings of Greek debt.
It is still 25% owned by the German government following a 2009 bailout.
The bank said it had comfortably exceeded the 5.3bn euros it was asked by the European Union to raise in extra capital, that would act as a cushion for future crises.
It has been selling riskier assets and reducing its borrowing as it tries to strengthen its finances.
Its investment banking arm performed poorly in the first three months of the year, which is traditionally the strongest for investment banks. Operating profits at the unit fell 88% to 30m euros.