Reserve Bank of India steps in to boost Indian rupee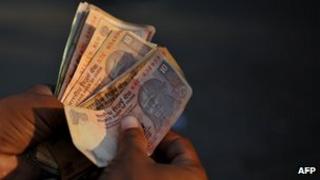 The Reserve Bank of India (RBI) has introduced fresh measures aimed at boosting the Indian rupee after recent weakness in the currency.
The RBI has asked exporters to convert 50% of their foreign exchange holdings into rupees within 14 days.
Exporters will also be allowed to buy foreign currency only after using up all of the foreign exchange holdings in their accounts.
The rupee has dropped 21% against the US dollar since August last year.
However, it strengthened slightly after the RBI's move, rising to 52.95 rupees against the US dollar, from 53.83.
Analysts said the new measures were likely to result in the currency rising even further.
"Recently, exporters were holding on to their foreign exchange for fear that the Indian rupee will fall further," said Dariusz Kowalczyk of Credit Agricole-CIB.
"Now that they have to sell, we expect a significant positive impact on the rupee."
He added that the ruling that exporters have to use their entire foreign exchange holdings before buying any more "will reduce demand for foreign currencies" and help shore up the rupee as a result.