BT's profits rise but sales fall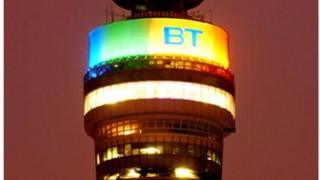 Telecoms group BT has reported a sharp rise in annual profits despite falling sales.
Profits were boosted by deep cost cuts and one-off gains of £166m, which included a large tax credit and interest from the pension fund.
Annual pre-tax profits were up 42% to £2.4bn, while sales were down 4%.
BT's chief executive, Ian Livingston, said the environment remained "challenging", but highlighted the growth of BT's broadband business.
It added almost 590,000 retail customers last year, a rise of 10%, taking its total to 6.3 million customers.
"We have now passed 10 million homes and businesses with our fibre roll-out. This is many months ahead of schedule and brings the benefits of super-fast broadband to families and businesses in cities, towns and rural areas across the UK," said Mr Livingston.
The growth of the broadband business has been compensating for the fall-off in BT's traditional telephone business, which has been in decline for years.
The company says that demand for its fastest broadband service, Infinity, has been strong, with 131,000 customers added in the final quarter of last year.
BT has also been on a cost-cutting drive, which saw costs fall by 4% last year.
Those savings have helped BT boost its annual payout to shareholders. It plans to raise the dividend by 12% this year.
In March, BT said that it would bay £2bn into its pension fund, one of the biggest one-off pension payments made by a company.
The payment is part of a nine-year plan to bolster the scheme.