Waste company 'bullying small businesses'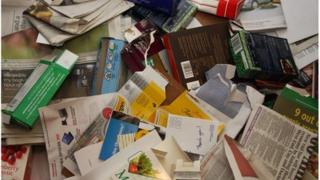 A waste company has been accused of bullying small businesses by using unfair contracts to ramp up charges.
Some customers signing "fixed price" contracts saw charges increase five-fold, a BBC investigation found.
PHS Wastetech has acknowledged that mistakes have been made, but say a new management team has now taken over.
Consumers are protected from unreasonable contract terms, and small businesses should be too, one legal expert told the BBC.
Sue Bowles runs a well-known high street stationers in Tunbridge Wells in Kent. She saw her prices for commercial waste collection go up by more than 600% over four years.
Ms Bowles signed a contract with Wastetech in August 2006 which guaranteed her a "fixed price for 12 months" - but charges increased the following March and kept going up.
Ms Bowles told BBC Radio 4's Face the Facts: "Over the four years, their first charge was £7 per collection and the last charge I had from them was £50.42."
'Abhorrent' service
Nicola and Tony Pankhurst, owners of a mail order business in Hastings, Sussex, suffered similar price rises.
Their weekly charge went up from £18.76 to £115.30 over a four-year period.
Nicolas says their service wasn't the problem but "the way PHS treat their customers is absolutely abhorrent".
"Once they've got your signature on that piece of paper they will suck you dry financially, imposing increase after increase after increase," he said.
When they challenged the price increases, PHS Wastetech sued the couple for breach of contract.
Their case ended in court in Hastings two weeks ago, when a judge threw out Wastetetech's claim, and instead ordered the company to pay back £4,000 in "unfair charges".
It's not the only time PHS Wastetech has found itself in court over unfair charges. The company admitted it had 92 active court cases with its clients.
But it says it is confident that the new management team will help the firm make a fresh start and says it has already resolved some complaints passed to them by the Federation of Small Businesses.
PHS added it has amended the front page of the contract to bring customers' attention to the detailed terms on the back of the document.
The Federation of Small Businesses (FSB) told the BBC it was "well aware" of the concern about PHS amongst its members.
"Our chairman has written to them in the past requesting a meeting to discuss concerns, but PHS refused to meet us."
The FSB added that it had been working with the Department for Environment, Food and Rural Affairs (Defra) and the Environmental Services Association (ESA) on a responsibility deal aimed at getting small- and-medium enterprises better terms from their waste service provider.
However, because PHS Wastetech is not a member of the ESA, it will not be part of the deal.
Hugh Beale, a professor of law at Warwick University, has called for a change in the law to stop small businesses being abused.
"It would be a major advance if the government implemented the Law Commision's recommendations [made] back in 2005 and extended the protection against unfair terms in printed contracts to very small businesses in the same way that consumers are protected," he said.
But a spokesman for UK Department for Business, Innovation and Skills (BIS) told the BBC there were no plans for any change in the law.
"We are not currently intending to extend proposals to revise the Unfair Contract Terms legislation to small and medium enterprises," he said.
"We have asked the Law Commission to review and update its 2005 report on unfair contract terms in relation to business to consumer contracts."
Radio 4's Face The Facts investigated PHS Wastetech in its programme on Wednesday 9 May. You can listen again at the above link.