US trade deficit grows in March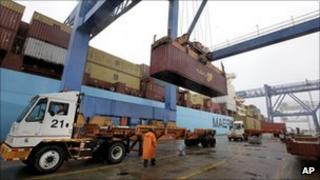 The US trade deficit widened at its fastest rate for 10 months in March.
Official figures from the Commerce Department show the deficit at $51.8bn (£32.0bn) in March, up from $45.4bn in February.
Rising imports of oil, cars, mobile phones and clothing contributed to a 5.2% rise in exports to $238.6bn, which more than cancelled out a 2.9% rise in exports to $168.6bn.
Exports to Europe hit a record high, despite the eurozone debt crisis.
Exports to the 27 EU countries rose 11.5% to $25.1bn, but imports from the EU also hit a record high, rising 22.7% to just under $35bn.
There is concern that sales to Europe could decline in the coming months as some European economies stagnate.
The widening of the trade gap was exaggerated by February's sharp decline from the figure of $52.5bn in January.
The trade deficit is running at an annual rate of almost $600bn, which is about 7% more than the previous year.