How Greece's euro-crisis could affect your holiday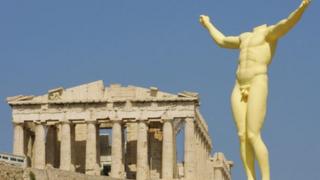 There are getting on for two million UK citizens for whom Greece's deepening political and economic crisis is becoming a personal, nagging worry.
The country is high on the list of favourite holiday destinations.
The Association of British Travel Agents (Abta) says around 5% of the 36 million holidays taken by the British abroad are to Greece and its many islands.
All holidays have an element of - to misquote a well-known US statesman - predictable unpredictability - simple ponderables such as what lies behind that twist in the coastline - how good will tonight's restaurant be.
But Greece's quota of unpredictable unpredictability is getting to the level beyond which some people can bear.
Rising fears
Helena Taylor, a care worker from Birmingham, said: "I can't be the only person to be worried about this. We have two holidays booked this year - as we usually do - and the first is in just a few weeks' time. If Greece exits the euro I've read that an 'emergency drachma' will be worth only about 10% of the euro's value. What currency do we take?"
The anxiety felt by some holiday-makers is summed up by a comment made on the travel website, TripAdvisor, by Delly from Manchester: "Just wondering if anyone knows what would happen if we were on holiday in Greece/Greek Islands and they a) went bust or b) left the euro? I guess potentially our euros would be worth nothing! Would our insurance cover us if we had to leave?"
The rise of such worries has coincided with a steady fall in the number of people visiting the country.
Abta's latest figures show UK visitor numbers dropped from 2.4 million in 2006, to an expected 1.7 million in 2010 with the same number estimated for last year.
There are no figures yet compiled for this year.
But Sean Tipton, from Abta said this was not all down to political worries: "To give you a bit of context, virtually everywhere in the world saw a fall in UK visitors in 2009 and 2010 due to the credit crunch and fall in value of sterling.
"Greece has also been affected by the competition of other Eastern Mediterranean destinations, plus it has an image problem of being relatively expensive - even though the Office for National Statistics says the average daily spend in 2010 was £53 compared with Turkey - perceived as better value - where the spend was a very similar £47."
Struggling
Tourism is very important to Greece's economy, with the Association of Greek Tourism Enterprises (Sete) saying it accounts for 17% of the country's gross domestic product (GDP) and gives employment to a similar percentage of people.
But it admits political unrest is making it hard for it to maintain those numbers.
A Sete spokesman said: "Unfortunately, due to the continuing European economic crisis, the recent negative media images of riots in the centre of Athens... and the recovery of the North Africa countries, we are forecasting a small drop from our targets.
"We are working towards developing, by 2020, Greece as one of the top 10 destinations in the world."
And it is attracting new groups of tourists. It says that although euro-area numbers have fallen, those from the Balkan countries and Russia have risen.
Discounts
There are signs that one of Greek tourism's other image problems - high prices - is in the process of correction.
In those areas where demand has fallen, TripAdvisor reported hotel prices in a number of popular Greek holiday resorts dropped substantially over the past year, with Corfu seeing the biggest drop of up to 20% for room rates.
Specialist traditional tour operators Olympic Holidays has discounted some of its holiday packages by far more - up to 60%.
Commercial director Fortis Lambrianides said this was partly a simple seasonal discount: "This is nothing unusual. Traditionally the charter operators do not want to be left with a stock of seats - so it's like selling fruit and veg when it's getting past its sell-by date."
But he said this year had seen something different in that hoteliers had been "more forthcoming with price cuts - particularly for early season bookings - which has helped us to come up with good discounts like that".
Should travellers worry about going to Greece?
Its government is likely to be at best a precarious coalition - at worst no government at all.
On top of that, strikes and serious social disorder have hit key services including travel.
And the parlous state of the Greek economy means the prospect of businesses going under is also a serious threat.
In most cases, travellers can be compensated for these problems through insurance schemes and other consumer protections - although not the nuisance caused by disruption.
Abta says it is not giving any particular advice in terms of Greece and potential company failures, other than its usual message that booking a package holiday or, a flight plus accommodation and or car hire through a travel agent, will mean that your money is protected.
Private hirers can take comfort too.
Specialist villa agents Pure Crete, one of any number of such companies, is confident it can minimise disruption.
The company's Louise Killner says: "The suppliers we use for our flying are UK-based and these are covered under the CAA's regulatory Atol scheme. So in the event of any serious problems we can repatriate customers who are already in Crete (with a flight organised by Atol to return them to the UK) or to provide a refund to customers who have a forward booking with us."
She says its customers do not seem concerned, and that bookings have risen recently.
Euro-exit?
The scariest unpredictable unpredictable for many though is the spectre of a forced exit from the euro - something that is technically impossible, but nonetheless discussed incessantly.
No-one knows how this could happen or what it would mean on the ground.
But again, there are reassuring words from holiday firms operating in Greece.
Abta says: "If the worst were to happen and Greece were to leave the euro there would be a transition period in adopting a new currency. If customers are still concerned there is a very wide range of all-inclusive package holiday options available."
Pure Crete's Louise Killner is also relaxed about the prospect: "If Greece exits the euro this won't affect their bookings - our contracts in Crete are with local villa owners who are paid in sterling, they usually own the villa outright and have other jobs.
"People understand that whatever happens to the Greek currency their euro or pound will buy more on holiday than before."
Olympic Holidays' Fortis Lambrianides says his company is prepared, and neither his business nor his customers should be worried: "Of course we have plans in place [for a euro exit]. Should the drachma be introduced we have everything ready for conversion - the consumer would not notice at one level as it is purely a transaction between us and the hoteliers - although personally I don't think it will happen."
Louise Killner says if anything, holiday budgets should stretch further: "It is highly likely that customers holidaying on the island will find eating out at local tavernas for example more affordable!"
The Independent's veteran traveller Simon Calder says Greece is getting his vote again this year, but he is going prepared: "I'm looking forward to my annual trip to Greece - exploring another corner of this beautiful, historic and welcoming nation.
"But, I'm taking cash, in the form of low-denomination euro notes, just in case Greece abandons the euro, or the euro abandons Greece, while I'm there. Apart from the traditional Greek preference for cash, there's the likelihood that electronic banking would freeze during any abrupt change of currency."
For those who say they are waiting for a Greek exit from the euro to take advantage of a collapse in the currency, there is this thought from Simon: "I've been in other parts of the world where the currency has gone through meltdown, leaving the population feeling poorer and aggrieved: Ukraine, as the USSR broke up in 1991, for example."
But he says it tends to lead to a warm welcome: "There is a lot of anger, but it is directed mostly at politicians and foreign agencies such as the IMF - not the visitor, who is correctly regarded as part of the solution to pressing economic woes. "