British Gas owner Centrica warns of higher energy bills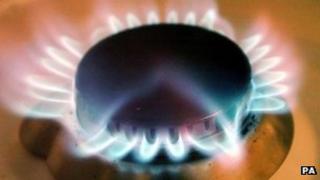 Centrica, the owner of British Gas, has said that despite its recent cut in electricity prices, rising wholesale gas costs will make supplying energy to UK households more expensive this year.
It said gas costs would be 15% higher next winter, while other costs would add another £50 to the cost of supplying energy to the average home.
"The trend for retail energy costs therefore remains upwards," it said.
In January, British Gas announced a 5% cut in its standard electricity tariff.
The price cut came after a 16% rise in electricity prices and an 18% rise in gas prices for British Gas customers in August last year.
"Any further increases will see even more people seriously struggling to afford their bills," said Tom Lyon, of price comparison website Uswitch.
"We would urge all suppliers to hold fire for as long as possible and to ensure that if they do move it is only in response to a sustained upward trend. It is also important that they recognise the impact it will have on their customers."
'Tough' year
In its trading update, Centrica said it remained on track to grow profits by 10% or more at its residential business, largely due to controlling costs.
It said average household gas consumption for the four months to April was up 1% on a year earlier, while electricity consumption was down 3%.
Earlier this year, Centrica reported flat annual profits following a "tough" 2011, which included a 30% fall in operating profits at British Gas to £522m.
The company is not the first to warn of rising prices. For example, Scottish Power warned that rising demand for energy would "inevitably lead to to higher energy costs in the long term" when it cut prices earlier in the year.
Audrey Gallacher of Consumer Focus said: "Consumers will need clear evidence that price rises are warranted if they are to stomach further increases to their bills.
"People simply do not know whether what they are asked to pay is fair. The perception is that suppliers are quick to pass on high price rises and slow to pass on small price cuts.
"Much greater transparency on costs, pricing and profits is needed for customers to know whether they're getting a fair deal."