How hard is it to get a 95% mortgage?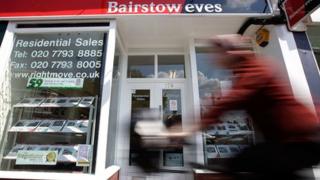 The number of 95% mortgage deals on offer has risen sharply in the past couple of years.
According to the financial information service Moneyfacts, there are 58 deals around at the moment, from 22 lenders.
That compares with 29 deals a year ago and just 19 at the start of 2010.
But the reality is that very few people are being granted a home loan with just a 5% deposit.
And experts suggest that not only is it still hard to obtain one, it is possibly not very sensible either.
"If you can put down a 10% or 15% deposit, at least, it makes a substantial difference - your choice is so much better and you will get a much better mortgage," says Andrew Montlake of Coreco mortgage brokers.
More expensive
Ninety-five per cent mortgages are available, in principle, from a variety of small building societies, and also from some of the UK's biggest lenders, such as the Halifax and the Nationwide.
A key feature is that many of the deals require the borrower to have a guarantor, typically a parent or grandparent, who agrees to stump up if you default and leave the lender nursing a loss.
"At worst they may have to guarantee the entire loan, at best they may have to cover the top 20% of the loan, to repay the mortgage payments if you can't," says mortgage broker Simon Tyler.
The borrowers also have to be able to afford a more expensive mortgage interest rate than anyone else.
"Generally speaking, the 95% mortgages are going to cost you between 5% and 6%, whereas other people are getting loans as low as half of that," Simon Tyler explains.
Severe rationing
Once upon a time, the 95% loan was the standard mortgage available to house buyers.
All that changed in the wake of the banking crisis that started in 2007.
Since then, banks have had far less money to lend.
And banking rules means that the smaller the deposit, and the riskier the loan, the more money they are required to put aside as a financial cushion against a possible default by the borrower.
The result has been severe mortgage rationing, especially for those people, typically first-time buyers, who can save only small sums of money for a deposit.
Statistics published by the Financial Services Authority (FSA) show that in 2011, just 0.36% of all new mortgage funds were lent to borrowers who provided a deposit of 5% or less of the purchase price.
With about 120,000 mortgages being arranged in the first three months of this year, that suggests just over 400 borrowers were able to get their hands on such a loan during that time.
Squeaky clean
A few deals are currently on offer without the need for a guarantor.
At the moment they are from the Newcastle, Nottingham, Cambridge, Cumberland, Monmouthshire and Leeds building societies, as well as the Clydesdale Bank.
But their interest rates, in some cases more than 6% a year, are even more expensive.
You will find that some smaller lenders, such as small building societies, will often lend only in their local areas, rather than across the UK.
And as Ray Boulger of mortgage brokers John Charcol explains, the lenders will also be very cautious about to whom they will lend.
"You need to have an even more perfect credit record than you need for other mortgages," he says.
"And the next most important thing is affordability: if you are borrowing 95%, some lenders will work on a lower income multiple than if you were borrowing at 75%, so in some cases they will be a bit less generous."
New Buy to the rescue?
The number of people able to borrow a 95% mortgage may jump this year.
That will be because of the government's New Buy mortgage guarantee initiative which was launched recently in conjunction with several housebuilders.
Its aim is to help the builders sell about 100,000 newly built flats and houses in England.
The mortgage guarantee scheme will let a selection of big lenders offer 95% mortgages to the prospective buyers, rather than the 80% or 85% loan that is currently standard.
Steve Turner of the Home Builders Federation says: "Large deposit requirements have for years been the biggest constraint on people's ability to secure a mortgage and so their ambition of home ownership."
"NewBuy will help people get round that constraint."
But Andrew Montlake doubts that it will have the desired effect.
"Lenders, whilst offering slightly better rates, will not alter their criteria for getting a mortgage," he says.
"It will help some people, and builders, but I suspect it might not help as many people as they think."