Japan's Tokyo Electric Power reports full-year loss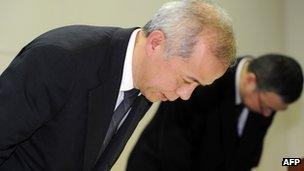 Tokyo Electric Power Company (Tepco) has reported a full-year net loss as it struggles with trillions of yen in costs related to the nuclear crisis at its power plant in Fukushima.
The loss was 781bn yen ($9.7bn; £6bn) for the year ending 31 March 2012, the company said.
Reactors at its plant were damaged in the earthquake and tsunami last year.
Last week, Japan's government agreed to provide 1tn yen to the utility and take a controlling stake.
The losses were less than the 1.25tn yen loss Tepco posted last year, as the government has taken over much of its disaster-related liabilities, effectively nationalising the company.
For the current fiscal year, Tepco said it expects a third straight annual loss of about 100bn yen.
Tepco has had to sharply increase the amount of fossil fuels it imports after a government mandated shutdown of all nuclear reactors in Japan because of the nuclear crisis.
Nuclear power was once supplying one-third of Japan's electricity.
On Monday, Tepco president Toshio Nishizawa said fuel costs were likely to jump this year because of the lack of nuclear power.
"This increase in fuel cost is based on an assumption that we will have no nuclear power in the year," Mr Nishizawa said.
As part of Tepco's government bailout the utility submitted a business turnaround plan, saying it would make itself profitable again in the year to March 2014.
Part of that plan assumes the government will allow Tepco to restart its Kashiwazaki Kariwa nuclear plant, the world's biggest, from April 2013.
Tepco also submitted a request last week to raise electricity rates for households and small users by an average 10% from July.
There has been a leadership change as well - Naomi Hirose, who was in charge of overseeing compensation for victims of the nuclear disaster, will take over as president in June.
Related Internet Links
The BBC is not responsible for the content of external sites.