Employers' group urges improvements in sickness levels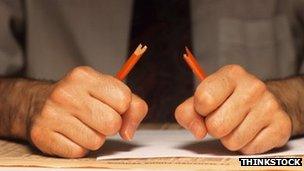 Recent falls in levels of workplace sickness absence have stalled and fresh efforts must be made to maintain the downward trend, according to a report.
The EEF employers' group said that there had been a decline in short-term absence over the past five years.
However, the overall sickness absence rate had flattened off in 2011 and remained unchanged from 2010 at 2.2%.
EEF chief medical adviser Prof Sayeed Khan said a "fresh approach" was needed from the government.
"With our economy still suffering from weak growth we need to pull every possible lever to improve our economic performance. This includes helping employees to return to health and work as soon as possible."
He said that the gains of reducing short-term absence were being exhausted, and added: "We need a fresh approach from government to address the more deep-rooted problems such as stress and back pain."
The study of more than 400 firms showed that the number of workers taking no days off sick increased from 46% to 51% between 2010 and 2011.
But the average number of days lost to illness remained at around five per employee, said the report.
Related Internet Links
The BBC is not responsible for the content of external sites.