JAL profits boosted by cost cuts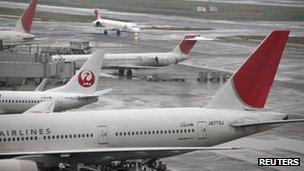 Japan Airlines (JAL), which went bankrupt two years ago, has posted an annual net profit of 186.6bn yen ($2.3bn; £1.5bn) thanks to cost cuts.
Revenue for the year to 31 March 2012 amounted to 1.2 trillion yen, the company said.
A strong currency also boosted business as more Japanese people travelled overseas, it added.
JAL filed for bankruptcy in January 2010 with more than $25bn of debt and required a government-backed bailout.
It was one of Japan's biggest corporate failures.
Operating profit rose to a record 204.9bn yen from 188.4bn yen the previous year. It did not provide a net profit figure for 2010-11.
Chief executive Kazuo Inamori, the founder of hi-tech giant Kyocera, was brought in by the government to turn around the ailing airline, long a symbol of Japan's economic success.
Under his leadership JAL de-listed from the stock market and cut costs, shedding about a third of its workforce, trimming employee benefits and reducing unprofitable routes. It came out of bankruptcy last year.
"All the employees became united to reduce costs and increase profits," Mr Inamori told reporters on Monday.
But he warned against complacency due to "unexpected risks" in the airline industry.
High oil prices, the European debt crisis and sluggish domestic demand due to last year's tsunami are some of the challenges facing the company.
It also needs to fight off competition from emerging low-cost carriers and rival All Nippon Airways (ANA).
In February, JAL said it had ordered 10 new Boeing Dreamliner aircraft. It is also expected to launch operations of budget airline Jetstar Japan in July, which is a joint venture with Australia's Qantas and industrial and finance group Mitsubishi.
The group earlier this year said it plans to relist its shares on the Tokyo Stock Exchange as the next step in its recovery from bankruptcy. The share sale would help the government recoup its investment.
The carrier predicts net profit of 130bn yen for the current fiscal year.
It aims to save 50bn yen in costs in the five years to March 2017.
Related Internet Links
The BBC is not responsible for the content of external sites.