Charity shops make £1bn despite shortage of donations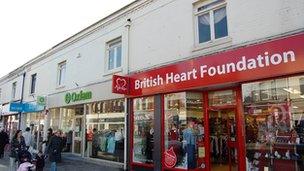 Spending in UK charity shops hit an all-time high last year with income of nearly £1bn, a rise of 3.6%, according to a report.
The Charity Retail Association (CRA) said in its latest Sector Trends report that High Street outlets had raised £220m for good causes.
The CRA said that tough economic times meant more people were using charity shops.
But the report also highlighted a need for more donations.
CRA research showed that 55% of people in the UK have bought items from charity shops in the last 12 months, with over 40% of those saying they had done so more than five times.
One in five people who currently shop in charity shops also said they will use them more in the next year.
However, the CRA has also begun a campaign to get more donations because more people are keeping their items for longer or selling them on sites such as eBay.
The CRA said that just over one in six people admit they have started selling their unwanted clothes to make money instead of donating them.
Some 15% of those who do not currently donate say it is because they cannot afford to buy new clothing so are keeping things for longer.
Related Internet Links
The BBC is not responsible for the content of external sites.