Public sector pensions deal accepted by Prospect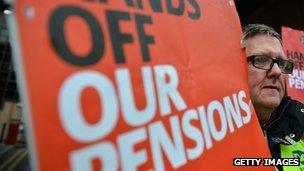 Plans for changes to public sector pensions from 2015 have been accepted by members of the UK's second-largest civil service union.
Members of the Prospect union have voted 79% in favour of the deal struck between the government and unions.
There was a 50% turnout among the 29,000 members affected by the changes.
The union said the deal was the best that could be achieved from negotiations, but said it did not endorse any changes from now to 2014.
"Members understood that the government's offer was conditional on acceptance, and that if the terms were rejected there was a danger of government imposing something much worse," said Dai Hudd, Prospect's deputy general secretary.
"However, members also recognised that Prospect had achieved significant improvements from the government's opening position.
"Members do not endorse having to pay higher pension contributions from this year, or the further rises in 2013 and 2014. These increases are an unjustified tax."
The government says that pension benefits are too high for public sector workers and the changes will eventually save the government tens of billions of pounds.
Ministers argue that change is needed because people are living longer, and say the cost of public sector pensions to the taxpayer has already gone up by a third.
However, a number of unions remain opposed to the plans.
Hundreds of thousands of public sector workers took part in a 24-hour UK-wide strike last Thursday over the pension changes.
Prospect added that 5,000 of its members were affected by negotiations on the local government pension scheme, on which talks continued with employers.
Related Internet Links
The BBC is not responsible for the content of external sites.