Best Buy founder to follow chief executive and resign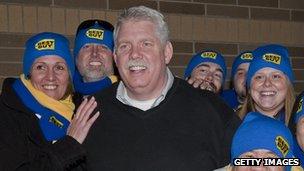 The founder of US electronics retailer Best Buy, Richard Schulze, is leaving after it was found he knew the chief executive was having an affair with a female employee but did not disclose it to the audit committee.
Chief executive Brian Dunn resigned in April, citing the firm's poor results.
It was discovered when an outside firm was asked to look into the matter.
Close personal relationships are against company policy.
Mr Schulze founded Best Buy in 1966 and it has grown to be the US's biggest consumer electronics retailer.
It tried to enter the UK market but pulled out last year, selling some of its stores to Morrisons.
He said in a statement: "In December, when the conduct of our then CEO was brought to my attention, I confronted him with the allegations (which he denied), told him his conduct was totally unacceptable and contrary to Best Buy's policies and everything I, and the company, stand for.
"I understand and accept the findings of the audit committee."
Best Buy said that in the light of the findings, it would review corporate policies and procedures. It will also recommend that shareholders approve a proposal requiring every director to stand for reelection on an annual basis.
Brian Dunn had been with the company for 28 years.
His severance package is worth some $6.6m.
Mr Schulze will receive the title chairman emeritus, an honorary position, and will formally go as a director in June.
He will be replaced by Hatim Tyabji, chairman of its audit committee.
Related Internet Links
The BBC is not responsible for the content of external sites.