Groupon loss narrows in first quarter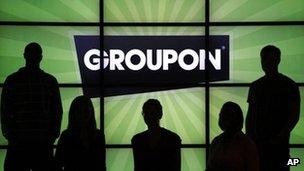 US voucher firm Groupon has said its quarterly loss has narrowed from a year ago.
The firm made a loss of $3.59m (£2.2m) for the three months to 31 March, less than the $113.9m loss it made in the same period last year.
In particular, its North American revenues surged 75% year-on-year to $238.6m.
Overall, revenue for the quarter rose 94% to $559.3m.
The loss included an expense of $28m related to non-cash stock compensation following its public offering.
Groupon made its stock market debut in November at $20 per share and peaked above $31 a share.
Shares are currently above $11.
Its stock tumbled after it restated revenues and earnings due to accounting errors.
In March Groupon was given three months to improve the way it operates by a UK regulator.
An investigation by the Office of Fair Trading (OFT) found "widespread" examples of breaches of consumer protection rules.
The OFT has specific concerns over "pricing, advertising, refunds, unfair terms, and the diligence of its interactions with merchants" at its UK subsidiary, MyCityDeal Ltd.
Groupon agreed to change to ensure honesty in its dealings with customers.
Related Internet Links
The BBC is not responsible for the content of external sites.