Italian banks have credit ratings cut by Moody's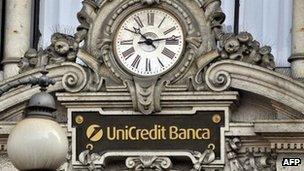 Ratings agency Moody's has cut the credit ratings on 26 Italian banks, including Italy's largest lenders Unicredit and Intesa Sanpaolo.
Italy's economy is contracting while the government also tries to reform the nation's public sector.
The agency said the banks were increasingly vulnerable to Italy's recession and the effects of government austerity measures.
Ten banks were cut from investment grade to so-called junk status.
UniCredit and Intesa Sanpaolo account for a third of the Italian banking market by assets. They both had their ratings cut, to A3 from A2, the agency said.
Some of the other banks saw their ratings cut by as much as four notches.
All of the banks were also put on negative credit watch, meaning that further downgrades are possible.
"The ratings for Italian banks are now amongst the lowest within advanced European countries, reflecting these banks' susceptibility to the adverse operating environments in Italy and Europe," Moody's said in a statement.
"Banks are vulnerable to the renewed recession in Italy, given their already elevated levels of problem loans and weakened profitability," it added.
Prime Minister Mario Monti is trying to implement a programme of austerity and reform, including changes to pensions, tax rises, fuel price increases and the liberalisation of some professions.
After years of stagnant growth, Italy is facing a contraction in its economy of up to 1.5% this year, according to the central bank.
"These risks are exacerbated by investor concerns over the sustainability of the Italian government's debt burden, which has contributed to the difficult wholesale funding conditions faced by Italian banks," Moody's added.