Chinese social network Renren sees losses increase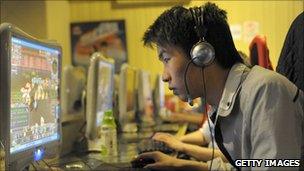 The Chinese social networking site Renren has reported wider losses for the first three months of the year, partly due to weak advertising revenues.
Renren posted a loss of $13.6m (£8.4m) compared to $2.6m in losses for the same period the previous year, the company said .
The firm, which had a share sale last May, runs one of the biggest social-networking sites in China, as well as a daily deals site.
Facebook is not accessible in China.
Renren said it had to raise expenditure on marketing to $17.4m, a 78% increase from last year, mainly on its daily deals site Nuomi.com.
It also said that its advertising business had not performed as well as expected.
"Our brand advertising business experienced a challenging quarter due to seasonality and the Chinese economy slowdown, resulting in a more cautious approach by new advertisers on our social networking platform," said chief executive Joseph Chen.
However online gaming has proven to be a good alternate source of revenue for the company, Mr Chen said.
"Gaming revenue, driven by the popularity of our recently launched games and mobile gaming efforts, outperformed our expectations, offsetting the weakness in advertising."
Renren said monthly unique users had increased to 40 million by the end of March, up from 31 million a year ago.
It also reported 154 million activated user accounts, up from 117 million.
Related Internet Links
The BBC is not responsible for the content of external sites.