Asian shares fall on Greece political uncertainty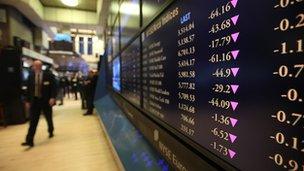 Shares in Asia have fallen, after Monday's falls in Europe and the US, as political turmoil in Greece has led to investors seeking less risky assets.
Japan's Nikkei 225 index closed down 0.8% at 8,900.74, while South Korea's Kospi was down 0.77% to 1,898.96.
Asian shares had been much lower earlier in the session, and European markets opened higher on Tuesday after strong German growth figures.
Greek leaders will meet again on Tuesday to try to form a government.
The euro, which fell 0.7% in New York to $1.2824, recovered to $1.2866 at the start of European trading.
The uncertainty in Europe had sparked a tumble in global markets on Monday. The US benchmark Dow Jones index closed down 1%, while London's FTSE 100 share index and Germany's Dax both fell 2%.
Bank shares were the most affected, particularly in Spain and France.
Eurozone finance ministers are in Brussels for their second day of talks, which include discussions on the problems in Greece and Spain.
Luxembourg Prime Minister Jean-Claude Juncker, who is also head of the 17-nation Eurogroup, said there was an "unshakeable desire to keep Greece within the eurozone".
"We will do everything possible to achieve that."
Analysts say the possibility of a Greek exit from the eurozone is likely if it cannot pay its debts. That, in turn, would cause a ripple effect throughout Europe and its struggling economies.
"The exit of Greece from the single currency has become probable; not so long ago it was impossible," analysts at DBS Bank in Singapore said in an email to Reuters news agency.
The fall in Japanese shares on Tuesday was mainly due to exporters with exposure to Europe.
Mazda Motor, the Japanese carmaker with a high proportion of European sales, fell 2.7%.
Shares in Toyota Motor, Nissan Motor and Honda Motor all fell between 2% and 3%.
"The markets are in risk-off mode because everyone is thinking, if Greece leaves the euro, who's next?" said Norihiro Fujito, from Mitsubishi UFJ Morgan Stanley.
The yen, considered a haven asset, strengthened to a three-month high against the euro, which fell to 102.4 yen after being heavily sold off.