The dual identities of Bo Xilai's brother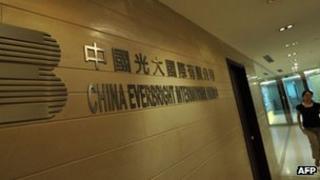 When Li Xueming joined the board of directors at a Hong Kong-listed company in 2003, little did he know he would eventually be engulfed by China's biggest political scandal in decades.
Among the reams of documents Mr Li had to sign when he joined China Everbright International was a routine declaration asking whether he had ever used another name.
The businessman wrote "nil", according to a person familiar with the document.
However, a little less than a decade later and Mr Li's cover was blown when a newspaper reported that he was actually Bo Xiyong, the elder brother of the disgraced Chinese politician Bo Xilai.
Bo Xilai is a former Communist Party chief of the south-western city of Chongqing, the son of a party grandee, and one of the most charismatic, and some say ruthless, politicians of his generation.
In a dramatic move, Bo Xilai was sacked from his party posts in March, and his wife was being linked to the alleged murder of British businessman Neil Heywood.
Keen to trace the financial interests of Bo Xilai and his family, the government was widening its net of investigation, and it was then that the so-called Mr Li was rumbled.
But why should it matter that Mr Li was using an assumed name, especially when changing one's name or using an alias is, in itself, not illegal in Hong Kong or China?
Princelings
There is no doubt that the uncovering of his brother in Hong Kong gave observers a rare glimpse into the way that some of the country's elite princelings, the privileged offspring of China's political class, conduct their business.
In cosmopolitan Hong Kong, a hybrid city under Chinese control but with the kind of rules and free markets more familiar in the West, many princelings trade on their family connections to enter the business world.
Some, like Levin Zhu, head of investment bank China International Capital Corp and son of former Premier Zhu Rongji, do not hide their family backgrounds.
But for others, while kinship to China's political elite can guarantee lucrative business offers, it can also create problems in a country where politics has been historically volatile.
From a princeling's point of view, changing a name, or using several names simultaneously, is often seen as a way to hedge against political risk.
As a result, it is very common for princelings to change their names or use aliases when they go overseas to study or do business, according to Johnny Lau, a veteran China watcher based in Hong Kong.
"There is a long history of this," he says. "First, they do this to feel safe. They sometimes worry about being kidnapped.
"But they also want to guard their image, to avoid the kind of attention that could invite trouble."
Wider holdings
In many cases, it also gives them the chance to build up their business holdings in a way that does not attract unwanted attention.
According to public documents, Bo Xiyong is a director of just one company in Hong Kong under his original name: Advanced Technology & Economic Development.
However, public documents state that Li Xueming had far more business interests in Hong Kong than Bo Xiyong, including previous director-level positions at several listed companies.
Mr Li has been a director at Metro Talent International, China Everbright Holdings Company, investment holding firm China Aerospace International Holdings and property developer HKC Holdings.
He was also a senior executive at various subsidiaries of the Everbright Group in mainland China, according to his biography on the HKC Holdings web site.
Attempts to reach Mr Li for comment at his condominium in the Mid-levels neighbourhood were unsuccessful.
China Everbright would not confirm whether Mr Li and Bo Xiyong are the same person.
But the person familiar with the declaration that Mr Li signed as a company director confirmed that they are, in fact, one and the same.
Corruption
The problem facing businessmen such Bo Xiyong or Mr Li is that, for many people living in China today, a princeling with a pseudonym can only be up to no good.
Jiang Weiping is a Chinese journalist jailed by the government after writing a series of stories about corruption in the Bo family.
He claims that in Dalian, the city where Bo Xilai first made his mark as mayor, it is an open secret that his brother Bo Xiyong and Li Xueming are the same person.
The journalist also claims that Bo Xiyong owns buildings and properties throughout north-east China.
Mr Jiang, who now lives in exile in Canada, says that there are signs the Communist Party is taking steps to shine a light on the assets their members hold.
The Communist Party chief of wealthy Guangdong province said in a speech to party members last week that officials in his province must be forced to declare their assets, as part of a trial programme to root out corruption.
The Bo Xilai case points to widespread problems in China, according to Mr Jiang. "If the system doesn't change, then the party will be in trouble."
But he admits that this spirit of disclosure may not amount to much if it happens within the party hierarchy, rather than publicly.
As for Li Xueming, a symbol of Hong Kong's connection to the biggest political scandal China has seen in years; well, he has now disappeared from public views.