Foreign investment in China falls for sixth month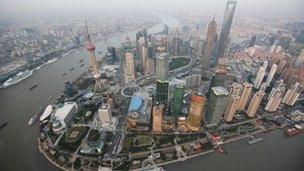 Foreign direct investment (FDI) in China fell for a sixth straight month in April.
Investment fell 0.7% from a year earlier to $8.4bn (£5.2bn), said the Ministry of Commerce in Beijing. In March investment dropped by 6.1%.
A ministry spokesman said the fall was partly because of the lacklustre global economy
Data released last week also indicated that China's economy is slowing.
Exports and imports during April were below expectations, and growth in industrial output was the slowest it has been since 2009.
On 12 May China cut bank reserve requirements - the amount of money banks have to keep in reserve - in an effort to spur lending.
Analysts said the recent data indicates more measures aimed at boosting growth could be on the way.
FDI fell 2.4% in the first four months of the year, compared to the same period a year ago, the data showed.
"The negative trend reflects concerns over China's lower growth potential," said Dariusz Kowalczyk from Credit Agricole CIB in Hong Kong in a note to clients.
"This is increasing the risk of China not meeting its 2012 growth target, but this also raises the odds of further monetary and fiscal easing."