India to cut Iran oil imports by 11% amid US pressure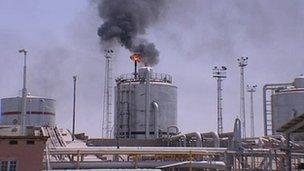 India has said it will cut imports of Iranian oil by 11% in the current financial year as it continues to face pressure from the US.
The US is threatening to impose sanctions which could exclude nations from the US financial system if they do not reduce Iran oil imports.
Washington has been targeting Tehran's oil exports to force it to abandon its nuclear programme.
India is one of the biggest importers of Iranian oil in Asia.
However, the threat of fresh sanctions from the US has forced authorities to look for alternative sources of supply.
"In order to reduce its dependence on any particular region of the world, India has been consciously trying to diversify its sources of crude oil imports to strengthen the country's energy security," said junior oil minister RPN Singh.
Mr Singh said that India's refiners were likely to import 15.5m tonnes of crude oil from Iran in the current financial year, down from 17.44m tonnes last year.
He said the import targets were based on "technical, commercial and other considerations".