UK trade deficit narrows in March to £2.7bn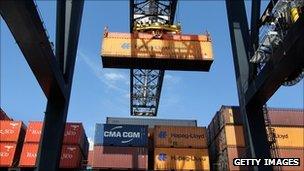 The UK's trade deficit narrowed in March, driven in particular by stronger exports to the US, China and Russia, official figures have shown.
The seasonally adjusted trade deficit in goods and services was £2.7bn, against £2.9bn the month before, the Office for National Statistics said.
Car exports in March were worth £200m more than the previous month.
The deficit on seasonally adjusted trade in goods was £8.6bn in March, unchanged on February.
The ONS said that the surplus on trade in services was estimated at £5.8bn in March compared with a £5.6bn surplus the month before.
Vicky Redwood, economist at Capital Economics, said that the figures revealed the impact of slowing trade with the eurozone.
"The breakdown of the figures suggests that the eurozone crisis is taking its toll," she said. "The rise in exports was driven by a 12% jump in exports to outside the EU; export values to the EU were flat.
"The deepening of the eurozone crisis in recent days suggests that the near-term export outlook remains pretty poor, especially given the further rise in the pound."
The deficit in trade in goods with EU countries widened by £700m to £4.5bn in March, compared with the deficit of £3.7bn in February. Exports were virtually unchanged at £13.2bn, and imports rose by £800m, or 4.4%, to £17.6bn.
Trade in goods with non-EU countries reached record levels, with both imports and exports at an all-time high in March.
Imports to the UK of goods from non-EU states rose by £700m, or 4%, to £17.3bn, while exports rose by £1.4bn, up 12.1%.
That left the overall deficit on goods trade narrowing by £800m to £4.1bn, compared with February's deficit of £4.9bn.
The value of chemicals exported to non-EU countries rose by £200m in March. The shipbuilding sector also saw the value of exports rise by the same amount.
Nevertheless, the ONS figures provide little optimism about UK economic growth overall, economists said.
"All in all, the trade data represents a drag on growth in the first quarter, which is reasonable because our overseas trading partners are not exactly firing on all cylinders, so demand for our goods is suffering," said Alan Clark at Scotiabank.
Peter Dixon at Commerzbank added: "The trend looks like we're moving more or less sideways."
Related Internet Links
The BBC is not responsible for the content of external sites.