Work days lost to sickness down again in 2011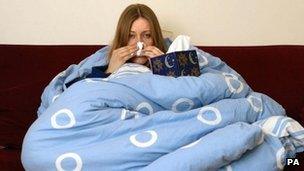 The number of working days lost to sickness fell again in 2011, by 4%, the Office for National Statistics says.
Last year 131 million working days were lost, with the most common causes being coughs, cold and flu, and back, neck and limb problems.
Sickness absence has been falling steadily since 2003, when the number of day lost, at 178 million, was 36% higher than last year.
The average number of days lost per worker is now down to 4.5 a year.
That is a fall from a recent peak of 7.2 days, per worker, in 1995.
"Musculoskeletal problems... accounted for just over a quarter of all days lost or 34.4 million days," the ONS said.
"Around 27.5 million days were lost due to minor illnesses and 13.1 million days were lost to stress, depression and anxiety."
Among the another findings, based on the quarterly labour force survey, were that:
Women and older workers take more days off work from sickness
Employees in the private sector and the self-employed are less likely to take time off for illness
The highest levels of sickness are reported by employers with the biggest workforces
And London is the region with the lowest level of sickness absence, with North East England and Wales suffering the highest rates.
The TUC said the latest figures reflected increasing pressure on staff to come to work, even when they were ill.
"Workers are taking less time off sick than ever," said the TUC's general secretary, Brendan Barber.
"The biggest problem workplaces face is not absenteeism, but 'presenteeism', where workers come in when they are too ill.
"Today's figures also show that the biggest causes of long term sickness absence are musculoskeletal disorders and stress. Both of these are often as a result of a person's work," Mr Barber added.
Related Internet Links
The BBC is not responsible for the content of external sites.