UNDP: Africa must boost food output to maintain growth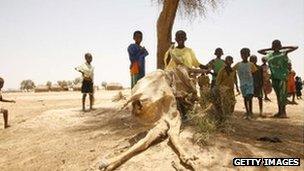 The United Nations Development Programme (UNDP) says Africa needs to boost agricultural productivity if it is to sustain its economic boom.
The report says African economies have registered "impressive growth rates".
But it says sub-Saharan Africa cannot sustain its present economic resurgence unless it eliminates the hunger that affects nearly a quarter of its people.
The situation affects children in particular, with 40% of African children aged under five malnourished.
UNDP Administrator Helen Clark said at the launch of the report in Kenya: "Impressive GDP [gross domestic product] growth rates in Africa have not translated into the elimination of hunger and malnutrition. Inclusive growth and people-centred approaches to food security are needed."
The report says that simply focusing on agriculture will not be enough to reverse the situation.
It calls for new approaches covering multiple sectors, from rural infrastructure to health services, and new forms of social protection and empowering local communities.
"The situation is quite bleak," said Sebastian Levine, a UNDP policy adviser for Africa. "This economic resurgence that we have seen has not really had the impact that we would expect."
The report does, though, highlight some countries where positive action has made a difference.
Ghana has become the first sub-Saharan African country to achieve a Millennium Development Goal on halving hunger by 2015, partly by focusing on policies which encouraged cocoa farmers to boost output.
And Malawi has transformed a food deficit into a 1.3 million tonne surplus within two years, thanks to a massive seed and fertiliser subsidy programme.
Related Internet Links
The BBC is not responsible for the content of external sites.