Greggs renews 'pasty tax' campaign as rain hits sales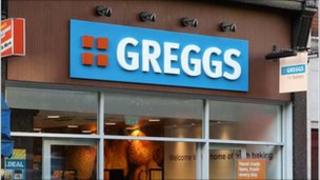 Greggs, the UK's largest bakery chain, has blamed the wet weather for a "disappointing" drop in underlying sales, and warned the so-called "pasty tax" could hit sales and profits.
Like-for-like sales - which strip out the impact of new stores - fell 1.8% for the 19 weeks to 12 May.
Greggs described the trading environment as "extremely challenging".
It also renewed its criticism of plans to extend the 20% VAT sales tax to hot, freshly-baked takeaway food.
'Material impact'
The government plan to extend VAT - the so-called "pasty tax" - has provoked a fierce reaction from Greggs.
In its trading statement, Greggs chief executive Ken McMeikan described the proposal as "completely confusing", adding that a petition against the VAT change had attracted 300,000 signatures.
The campaign also has the backing of the National Association of Master Bakers and the Cornish Pasty Association, the company said.
Mr McMeikan is due to meet David Gauke, Exchequer Secretary to the Treasury, on Thursday to present an alternative proposal that is "simpler and more workable".
"While we understand the government's need to increase revenue, we fear the current proposal will have a disproportionate impact on the specialist bakery sector, resulting in further unemployment, High Street closures and reduced investment," Greggs said.
"Savoury sales are more than a third of our turnover, and the outcome of the consultation process could have a material impact on our sales and profits."
Wet weather
Greggs, known for its pasties, sausage rolls and sandwiches, said the wettest April since records began had dented consumer spending, along with continued high fuel, energy and food costs.
The bakery chain, which has 1,600 shops in the UK, described its performance as "disappointing".
But overall sales increased 4.3% on the back of 20 net new store openings during the period. It aims to open 90 new shops by the end of 2012 and is expanding into coffee shops.
It is hoping that upcoming events, such as the Queen's Diamond Jubilee, the Euro 2012 football competition, and the Olympics, will help to improve consumer sentiment and boost sales.