Bankia shares fall 10% after results delay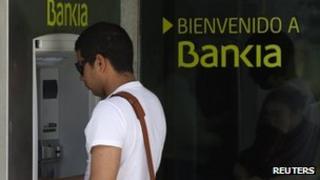 Shares in Bankia, the part-nationalised Spanish bank, have tumbled more than 10% after it delayed the release of its first quarter results.
The bank reported only provisional results for the first quarter of 2012 without figures for net profit or bad debt provision.
More information would be forthcoming "once we have the definitive annual accounts for 2011 and the audit report on them," it said.
The markets fear further bad debt news.
Bankia is already setting aside 4.7bn euros, the highest among Spain's banks, to cover loans that could go bad.
Property woes
Bankia's parent company, Banco Financiero y de Ahorros (BFA), has not presented its own results because auditor Deloitte has yet to sign them off, following confusion over the true value of its stake in Bankia.
Bankia will be part-nationalised when loans worth 4.47bn euro (£3.57bn) made by the Spanish bailout fund are converted into shares, leaving the state with a 45% stake in the group.
The move to part-nationalise the bank prompted its executive chairman, Rodrigo Rato, to resign from his position on 7 May.
New chairman Jose Ignacio Goirigolzarri has been asked by the the Bank of Spain to come up with a revised rescue plan.
At the end of 2011, Bankia had a 37.5bn euro exposure to the property market, the largest of any bank, with most of these loans considered at risk of default.
Uncertainty over the true levels of bad debt faced by Spanish banks following the property crash, and the degree to which the state will have to bail them out, contributed to yields on Spain's benchmark 10-year bonds rising to a year-high of 6.5 per cent on Wednesday.