Gambling boom a mixed blessing for Macau's youth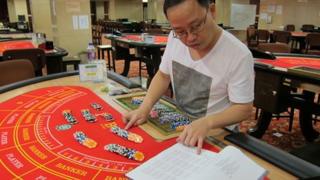 It's exam time at Macau's Polytechnic Institute and the students are busy cramming.
But they are not sat in the library poring over textbooks, they are deftly dealing cards, counting chips and calculating payoffs.
"The most interesting course is blackjack," says one student, 19-year-old Tommy Cheang.
Tommy is training for a job in the world's biggest gambling centre and is one of thousands of students who each year pass through the polytechnic's mock casino floor - a vast, fluorescent-lit room of baccarat tables, roulette wheels and slot machines.
It is here they learn all they need to know about the arcane world of gaming - from shuffling smoothly and managing the pit, to how handle a sore loser or spot a player stealing chips.
And it's a world where young people like Tommy hold all the cards. With the law favouring local workers, jobs are handed to the polytechnic's graduates on a plate. Many receive offers of employment from casinos long before they finish their courses.
Tommy, however, doesn't want to work as an entry-level dealer. He is taking a degree-level qualification, which he hopes will give him a shot at casino management.
Dramatic change
It's a dramatic change from in previous generations. Until this century, the former Portuguese colony was a largely forgotten backwater that manufactured fireworks, toys and plastic flowers.
But since its return to China in 1999 and the subsequent liberalisation of its gambling industry, Macau's economy has expanded at breathtaking speed. Growth of 18% is expected this year despite concerns of a slowdown in mainland China.
And fuelled by players from the mainland who flock to the territory's smoke-filled gambling venues, Macau's gambling revenue is five times greater that of the Las Vegas Strip.
The impact on local people has been mixed.
A law that limits non-residents from working as croupiers, dealers and construction workers has created well-paid jobs but it has also enticed teachers and nurses out of classrooms and hospitals.
Wages have doubled over the past 10 years, but a frenzied real estate market still makes it difficult for locals to afford an apartment.
Temperament
The new Macau has proved particularly tempting to young people. A growing number are leaving school or skipping university in favour of a casino job, with more than half of the city's 500,000 residents employed by the casinos or related industries.
It's a matter of concern for the city's lawmakers, who are seeking to raise the minimum age for working and entering a casino to 21 from 18. The law, which is still be drafted, may take effect in July.
The hope is that more youngsters will go into higher education, and avoid casinos at an age when problem gambling is more likely to develop.
Carlos Siu, an associate professor at the polytechnic's Gaming and Research Centre, agrees with the move.
While young people can acquire the practical skills needed to work in casino, he says it's hard to know whether they have the right temperament for what is a stressful job.
"A casino is a place where there are lots of temptations, maybe it's better that people are more mature when they start working there," he says.
Complacency
Mr Siu has also detected a change in attitudes among his students, who, with jobs so easy to come by, have become a little complacent.
"They want immediate results and don't pay attention to hard work," he says.
Most of the courses offered by the institute are short, with the longer, degree-level courses a recent innovation.
Tammy Lo, head of practical skills at the casino school, says it can take up to 80 hours to master blackjack and baccarat, the preferred game in Macau casinos. The most challenging part is the split-second mental arithmetic needed for chip payouts; no calculators are allowed.
It's a view shared by student Ng Hoi Wing. Standing at one of the horseshoes, his face is racked with concentration as he tries to work out the payouts on baccarat hands typed out on a crumpled piece of paper beside him.
Hoi Wing, 47, currently works 12-hour shifts at a money changer earning 9,000 patacas a month, and cannot wait to get a dealer job. He hopes to get paid 13,000 patacas month and says the shifts will be much shorter.
Long-term career?
But not all the students are sold on a casino career.
Yoki Leung, 26, who is working as a dealer while she studies for a degree in gaming and recreational management, says it can be tough handling players on a losing streak.
"Guests complain a lot but it's often nonsense. They complain just because they have lost money. It's not your fault," she says.
Other bugbears are the overnight shifts and the repetitive nature of the job. The excitement of people winning and losing vast sums of money quickly loses its shine, she adds.
Yoki doubts whether the casinos are a long-term prospect for both her own and Macau's future.
The Philippines, Singapore and other countries have taken note of Macau's success and are developing rival casino industries to appeal to China's high rollers, she notes.
But, for now, like the other students at the casino school, she is content to be part of the boom.