Spain bond auction sees cost of borrowing rise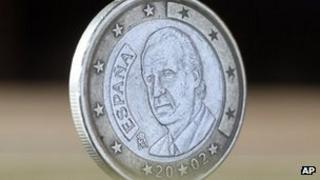 Spain has paid sharply higher rates of interest to borrow money on the international markets, as worries grow about the state of its economy.
In total, it raised 2.5bn euros ($3.2bn; £2bn) through issuing a number of different types of bonds.
On bonds due to be paid back in January 2015, it had to pay an interest rate of 4.373%, up from 2.89% in April.
On debt maturing in April 2016, Spain had to pay an interest rate of 5.106%, up from 3.374% on 15 March.
"The auctions have gone OK, probably better than the market feared," said Peter Chatwell, interest rate strategist at the French bank, Credit Agricole.
"The market should stabilise for the moment as this is another successful funding round from Spain," he said.
On Wednesday, Spain's Prime Minister Mariano Rajoy warned that borrowing costs could become "astronomical".
Banking woes
Spain is in recession and unemployment is rising. Investors are concerned about the health of its public finances and banks.
In addition there are fresh fears that contagion from Greece's economic woes could trigger a Spanish banking crisis.
Spain's fourth biggest lender, Bankia was rescued earlier this month and shares continued to fall on Thursday, losing another 21% of their value.
Pressure has been building on struggling European nations such Spain, Portugal and the Republic of Ireland after the political crisis in Greece deepened.
Greece is expected to hold another election on 17 June after elections earlier in May failed to produce a coalition government.
There is growing concern that the next government will refuse to continue with the austerity programme imposed on Greece by its international creditors.
If that happens then Greece would lose its last remaining sources of credit and would not be able to pay its bills, which could lead to Greece leaving the euro.