Dutch goal to tackle football finance issues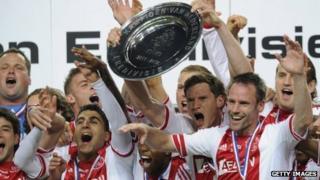 Dutch club football has been through rocky times recently, as its teams have struggled to make a dent in European football competitions.
And two years ago it also saw its football teams hit by financial woes, that resulted in the country's oldest club, Haarlem, going out of business.
At the same time the country's professional clubs booked a combined loss of 90m euros (£73m; $115m), and another club, Veendam, escaped bankruptcy by the skin of its teeth.
Those financial troubles came to light during the tri-annual monetary checks carried out as part of the Dutch FA's (KNVB) club licensing system.
And it is that same system - which also allows for KNVB supervision of failing clubs' budgets - that has ultimately steadied the boat, and now means teams should be well-placed for Uefa's incoming Financial Fair Play regulations.
Under the rules, clubs must be able to financially break even from 2013-14 if they want to compete in the Champions League or Europa League.
'Transfer fees'
"Financially, most Dutch clubs have gone through difficult times, but have adapted to financial and economic circumstances, and hopefully have left the low points behind them," says Ivo Trijbits, Ajax's head of legal affairs.
Unlike England, Italy, Germany, France and Spain, Dutch clubs are not in the European big leagues.
That means clubs in the Netherlands get considerably less TV money than their counterparts.
However, for the size of the nation - 16 million people - their teams do proportionately well when it comes to sponsorship deals.
"What other income sources are there for Dutch clubs?" says Mr Trijbits, in the UK to attend the annual C5 Sports Law and Business conference in London.
"There is gate money, Champions League participation for some, and transfer fees, where hopefully money will then cascade down to the smaller clubs."
He cites the transfer of Luis Saurez to Liverpool from Ajax, who then bought a replacement from fellow Dutch club AZ Alkmaar, who then brought in a new striker from the US.
Licensing system
However, the days when there was a production line of global superstar players such as Johan Cruyff, Marco van Basten, Dennis Bergkamp, and Ruud Gullit, have gone, although the country still produces top-class footballers.
But in the current global climate purchasers are more cautious.
"Because of economic troubles this source of [transfer] income has fallen away from many clubs," says Mr Trijbits.
One of the key aims of club licensing in Dutch football is to ensure teams do not go bust mid-season.
Regulations were revised in 2004 to include greater scrutiny of clubs' finances and corporate structures to avoid bankruptcy.
This system has been described by Max Van Den Berg, the Dutch politician and former MEP, as "intended to be transparent, sound and geared to clubs' long-term solvency".
Action plan
Clubs have to submit financial information in November, March and June, including full-year results for the previous year, half-year results, financial projections, and budgets for the forthcoming year.
The licensing committee judges clubs as being either economically inadequate, adequate, or having excellent finances.
Of the 36 professional clubs in the country's two professional leagues just six currently fall into the first category, 20 the second, and some nine are deemed to be in prime financial health. Club MVV has still to be appraised.
That is an improvement on 2010 and 2011 when 13 were deemed to be financially inadequate, and found themselves having to draw up a three-year action plan by the KNVB.
Other aspects of the Dutch licensing system include examining the legal structure of clubs to ensure no one individual can exercise an undue influence and that the administrative side of things is healthy.
If clubs are not up to scratch there are three potential sanctions; the most widely used being adherence to an economic action plan under KNVB direction.
However, there is also the possibility of being able to deduct points or impose fines, with the ultimate sanction being the withdrawal of a club's licence.
This is what happened with Haarlem in January 2010, when they were declared bankrupt.
Despite being the oldest club in Holland, formed in 1889, they were excluded from professional football with immediate effect. A merged club now plays in amateur football.
If it, or any Dutch club, wants to move up the pyramid from amateur and semi-professional to the professional leagues, a solid business plan has to be approved by the authorities.
The KNVB licensing team ensures clubs must pay what is owed to employees, to other clubs, and into player pension funds.
It is also integrating the Uefa financial fair play demands into its issue of licences, to ensure that big clubs like Ajax can play in the Champions League without fear of Uefa sanctions.
'Creative' financial solutions
"The Uefa goal is that a club will not spend more than its own turnover, and not rely on third party financial injections," says Mr Trijbits.
While he believes that the Uefa system "will contribute" to more sensible budgeting by clubs, "it cannot guarantee that financial fair play will be achieved".
"Clubs will look for 'creative' financial solutions and options," he adds.
And, although the final shape of Uefa's sanctions against transgressing clubs has not taken final shape, the Ajax man believes that fines would only add to the burden of clubs in debt.
"I prefer the Dutch way of a strict action plan," he says.
He adds that Ajax, which has just won its second Eredivisie under coach Frank de Boer, cannot pay £50m for a Fernando Torres, as Chelsea did.
Despite that, in the new financial landscape Dutch clubs are fortunate to have their legacy of youth player development.
"The philosophy of Ajax is not about buying big money signings," says Mr Trijbits.
"Our philosophy is more about developing young talent, and after they have had a period in the first team then maybe a transfer can take place."