London 2012: Olympic sponsors seek a winning performance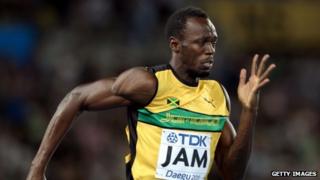 As athletes hone their preparations to strike gold at the London Olympics, so companies and brands are hoping the time and effort they have put into their games sponsorship campaigns will also bear fruit.
From the big multinationals who make up the International Olympic Committee's (IOC) global TOP sponsor programme, to smaller UK-based suppliers to the games, they're all are gearing up their partnership programmes.
One new addition to that IOC tier of big name backers is Procter & Gamble, a worldwide manufacturer of products such as Head and Shoulders, Gillette, Bold, Duracell, Pringles, Wella and Max Factor.
"There are three reasons why we are backing the Olympics," says Nathan Homer, P&G's UK and Ireland Olympic Projects Director.
"First it is to build the business. Anyone who does a partnership deal and says it is not to build their business, then you wonder what they are doing it for."
Brand awareness
The firm aims to make $500m (£325m) in additional sales this year thanks to its London 2012 association.
"Secondly, we have made a clear decision to use the Olympics to launch Procter and Gamble as a corporate brand, as something separate from the individual brands that P&G owns."
Mr Homer adds: "The other reason for backing the games is that it can be a powerful tool within our workforce, in the UK and around the world."
The fact that so many different nations compete in the Olympics was used to highlight that P&G in the UK and Republic of Ireland employs 54 different nationalities.
"The next time we asked staff about whether they recognised diversity as an issue, the scores were much higher," says Mr Homer.
The firm's advertising campaigns are already up and running, on TV, public transport and elsewhere.
As well as supporting Team GB and Paralympics GB, the firm is also backing 150 athletes around the world, with the biggest names being used in ad campaigns.
"We thought we would see a steady build-up [in sales] from January, but we actually saw an early acceleration in business," says Mr Homer.
"We want to maximise our impact around the actual games and have separate campaigns there, too."
P&G is running campaigns with a social or sporting strand, including partnering the Mayor of London's office on the Capital Clean Up campaign, and it is also running its Gillette sports coaching programme.
Reputational gain
Neil Crockett is the managing director leading the Olympic Games and Paralympics sponsorship at multinational IT and networking firm Cisco, a technical partner of the two events.
It is in the London 2012 Olympic Supporters tier of sponsors.
The firm recently opened Cisco House, a showpiece building just across the road from the Olympic Park in Stratford, which highlights the firm's work.
"It [sponsorship] is a great chance to showcase what we do every day, delivering mission-critical infrastructure projects," says Mr Crockett.
"It is also good for our reputation. We have been a supplier before to sponsors, but this is the first time we have been a sponsor of a major sporting event."
As a business-to-business company, Cisco decided not to go for mass publicity about its London 2012 partnership, although there was some targeted media work in select publications.
"As a sponsor, we have got to be disciplined in knowing what we are about, otherwise you can spend a lot of money that does not pay off," says Mr Crockett.
"We want to build a legacy for the Games that is meaningful and which ultimately helps the UK to grow. London 2012 has got to be a catalyst - not just an event - for business."
He said the technical and digital sector was one of the few growing in the UK, and the Games could drive that forward.
"It is what comes after the event that is important - innovation, entrepreneurship, skills and training," he adds.
Cisco's five-year investment plan also includes a programme called the British Innovation Gateway, to encourage skill and innovation.
And it has been working to help revamp the science and maths syllabus for 14 to 16-year-olds, based around an Olympic theme.
In addition, the firm will establish 30 "network academies" in east London, providing equipment and e-learning materials for students to study IT.
Staff benefits
Freshfields, one of the 2012 Games providers and suppliers, is a London-based law firm that has been involved with the Olympics project for the past nine years.
Back in 2003, it helped the Olympic Games company to put the London bid together.
Since the hosting victory in Singapore in 2005, it has been working for both the games organising committee Locog and the Olympic Delivery Authority.
"We had been immersed in it and had a suggestion of the power of the Olympic Games and how it energises people," says the firm's Tim Jones, instrumental to its 2012 partnership.
"I had concluded that there were a number of things we wanted to do with the business, including increasing our corporate client base," he says.
"The Olympic Games sponsor group contains significant companies and has given us a chance to get closer to them."
Becoming a sponsor has also helped to enable the firm to leap up the brand awareness tables for its sector.
Sponsorship also allows the firm to take clients to the Olympic Park or test events, or to introduce them to athletes.
And on the internal side of the workplace, it has helped with staff interaction.
"We are able to introduce Olympians and Paralympians to the staff," says Mr Jones.
"The Paralympians have really caught the imagination of people here, they have been so inspirational - even for people not interested in sport.
"It is very motivational for people to hear their stories. "
And being associated with London 2012 has also helped attract staff in what Mr Jones says is a competitive marketplace.
"We have been very pleased with the way this has turned out. In this Olympic year, we are really seeing the payback."