China's property price fall sparks growth worries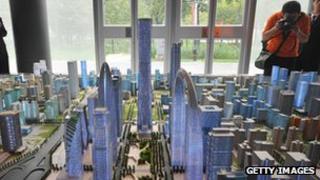 Chinese property prices have continued to fall during April after the government kept policies in place to curb speculation.
Newly built home prices fell in 46 of 70 mainland cities in April from a year earlier, the National Bureau of Statistics said.
That compares with a decline in 38 cities during March.
The worry is that if property prices fall further then it will hurt growth in the world's second-largest economy.
This fear was underlined by a Chinese government think tank on Friday which forecast that the country's economic growth may slow to an annual rate of 7.5% on the back of a property slump.
During the first quarter of 2012, the Chinese economy grew at a pace of 8.1%.
Many investors regard 8% as a key level for Chinese growth. If it falls below that figure, they argue, the country may find it more difficult to maintain domestic demand, boost infrastructure investment and accelerate job creation.
According to the Reuters news agency, which carries out its own study of house prices in China, the cost of an average home in the mainland's 70 major cities fell 1.2% in April, extending an 0.7% slide in March.
Last year, the Chinese government stopped providing nationwide home price statistics, and now only reports data on specific cities.