JP Morgan boss Jamie Dimon to testify at Senate panel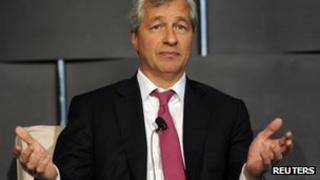 JP Morgan Chase chairman and chief executive Jamie Dimon has agreed to appear before a Senate committee to explain the bank's unexpected $2bn (£1.3bn) loss on high-risk trades.
US senator Tim Johnson, who chairs the Senate Banking Committee , said it was crucial to hear directly from Mr Dimon.
The hearing will take place next month.
A JP Morgan spokeswoman said the bank would be "open and transparent" at the panel which will examine risk in the US banking industry.
The Banking Committee will hear from US regulators about the losses in hearings on Tuesday and on 6 June.
Mr Dimon will appear sometime after that.
The surprise losses at JP Morgan have revived the debate over whether regulators should tighten the so-called Volcker rule.
Gene Sperling, national economic council director at the White House, called for the rule to be tightened.
The Volcker rule aims to restrict bank trading activity in a bid to prevent the need for any further government bailouts.
But an initial draft of the rule, released in October, has been criticised by regulators for allowing banks to profit from hedging activities.
Hedging strategies are used by banks and investors to reduce the risk of losses.
JP Morgan revealed the $2bn losses last week in an extraordinary conference call, with Mr Dimon acknowledging the mistake as "self-inflicted", and attributing it to "sloppiness and bad judgment".
The disclosure came just a month after he had dismissed reports of the bank's controversial trades as a "tempest in a teapot."
The Volcker Rule takes effect in July, but banks have two years to comply with the regulations.