London Stock Exchange sees profits jump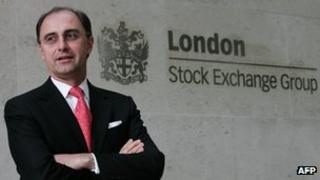 The London Stock Exchange has reported higher-than-expected annual profits thanks to acquisitions and expansion.
Pre-tax profit jumped to £639.7m for the year to 31 March, from £238.2m last year, with revenues rising 10% to £679.8m.
Its strong performance was largely due to taking full control of index creator business FTSE International from publishing house Pearson.
Excluding this, pre-tax profit was up 35% to £401m.
Its results were also boosted by a sharp jump in revenues at its Italian clearing house as the market turmoil drove up deposits.
It increased its final dividend by 6% to 19p per share.
LSE chief executive Xavier Rolet said the results indicated "great progress" and proved its diversification strategy was working.
In the three years since taking the helm, Mr Rolet has expanded the exchange's services from UK share trading into other areas, including sales of its bespoke technology and other asset classes such as bonds.
The firm is currently awaiting clearance from the regulatory authorities for its purchase of clearing house LCH Clearnet, which enables trading between two separate parties.
Mr Rolet said the firm expected "good strategic progress" in the year ahead despite the current turmoil in Europe.
Shorewood Capital analyst Gary Greenwood said the results were "strong", but warned the LSE had benefited from the current market disruption, which he said "may not be sustainable in the long-term".
London Stock Exchange's shares rose almost 5% to 1,010p.