Vietnam's new technology entrepreneurs look global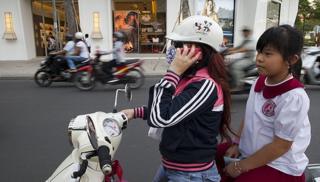 When the PC game Dien Bien Phu 7554 was launched six months ago, its Vietnamese developers Emobi Games felt a great sense of triumph and achievement.
Hailed as "first next-gen box game" made in the country, Dien Bien Phu 7554 was also the first Vietnamese PC game to be built in modern 3D graphics.
"Up to now, what most companies do is import foreign-made games and reversion them for the Vietnamese market, " says Nguyen Tuan Huy, director of Emobi Games.
"Our aim is to get Vietnamese gamers to play Vietnamese games."
It took Mr Huy, 32, and his team two years to develop the game, the plot of which is based on the famous battle of Dien Bien Phu that saw the end of the French occupation of Vietnam in 1954.
In this offline game, players take on the roles of Vietnamese soldiers fighting a "sacred war" to free their land.
However, despite the seemingly winning combination of nationalistic pride and modern 3-D technology, Dien Bien Phu has failed to bring in any profit.
Having sold only 5,000 copies in Vietnam and 500 overseas, Emobi Games generated an income of only 1bn Vietnamese dong ($50,000), roughly 6% of the investment put into the game.
"The Vietnamese public still don't have much trust in domestic products," admits Nguyen Tuan Huy.
But he insists that for him and his team, the game remains "our success".
"We have proved that Vietnamese can be innovative and original," Mr Huy says.
Emobi Games developers are currently working on another product - 2112, this time an online game.
Growing pains
Nguyen Tuan Huy and his 28-strong team represent the new generation of Vietnamese entrepreneurs who are not afraid of challenges and who are quick to embrace global trends.
Vietnam has moved a long way from being a technology backwater to become one of the fastest growing IT markets.
Thinh Nguyen, a former Silicon Valley executive, who has been working in Vietnam for the last decade, says the changes have been "staggering".
Mr Thinh left Vietnam in 1975 when the war ended, but came back to start up Pyramid Software Development in Ho Chi Minh City in 2002. He since sold the company and is now working as a consultant.
"Ten years ago, you could count the number of IT companies using your fingers," he says.
Now there are more than 750 software companies employing some 35,000 people. Among them, 150 are outsourcing firms.
Industry sources suggest that Vietnam is currently among the top five outsourcing destinations in Asia.
Vietnamese companies are manufacturing software and games for foreign companies, and are starting to export mobile phone apps overseas.
A young population and cheap labour costs are two major advantages that many start-ups have been tapping. The government in Vietnam has also been very encouraging, seeing information technology as beneficial for the country's economy.
Back to school
Charles Speyer, co-founder of Glass Egg Digital Media, a console game art outsourcing company, says the environment has been "very friendly for software companies".
"We received our licence after less than a week," he says.
"At Glass Egg we have always had to train our 3D artists, but there are good coders coming straight out of school in Vietnam."
However Mr Speyer warns that although there is a lot of potential, the innovation industry in Vietnam will take some time to develop because of the inadequate education system.
"The education system is not geared towards creating innovators and that does not seem to be changing any time soon under the current government guidelines."
IT veteran Thinh Nguyen appears to be more cautious.
"Vietnamese start-ups do have great potential," he agrees. "But the truth is their competitiveness is still very low."
In Mr Thinh's opinion, lack of investment and limited human resources pose the main obstacles in the innovation process.
"Mobile apps are one thing, but international-standard products require a lot of investment and many more developers than there are at the moment."
With nearly 100,000 IT postgraduates, questions arise over how computer companies in Vietnam can still be short of staff.
But this is the reality, and the reason is Vietnam's people policy, explains Nguyen Long, an up-and-coming software developer.
At 23 and still a student, Mr Long has already developed 17 apps for Blackberry, including SayIt, a voice recognition app.
While Vietnamese developers do have "brilliant and original ideas", he says, they don't receive much support - including from the government.
"I want to continue my path and eventually to open my own company," he says.
"But at the moment it looks like my future will be outside Vietnam."