Beecroft 'red tape' report aims to boost growth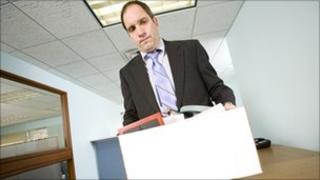 The prime minister is this week expected to back a plan to help boost growth by cutting employment red tape.
The report by venture capitalist Adrian Beecroft will call for a "bonfire of regulations", according to the Sunday Telegraph and the Sunday Times.
Recommended reforms include an easing of equality rules and giving firms more flexibility to make redundancies.
The government said the report was one of many submissions and that it would publish its response in due course.
David Cameron discussed the need for urgent growth in Europe as he met G8 leaders on Saturday.
The government-commissioned Beecroft report is expected to recommend:
cutting the mandatory consultation period when companies want to make redundancies from 90 days to 30 days
a cap on loss of earnings compensation for employees who are unfairly dismissed
reform of the rights that workers are allowed to "carry" over to new employers when they are the subject of a takeover
scrapping provisions in the Equality Act which make employers liable for claims from employees for "third party harassment"
giving responsibility for checking on foreign workers' eligibility to work in the UK to the Border Agency or Home Office, rather than employers
A spokesperson for the Department for Business said the government was committed to reforming employment law and boosting growth "while at the same time ensuring we do not weaken the employment rights of workers up and down the country".
It said: "The Beecroft report is but one of many submissions gathered by government in the last year in response to the Red Tape Challenge - most of which have submitted strong evidence-based proposals in response to suggested changes to labour market rules."
However, if Mr Cameron does back the report, he risks raising tensions with the Conservatives' coalition partners.
A source close to Lib Dem Business Secretary Vince Cable described the report as "the personal views of one individual", adding that it was surprising that Number 10 would back a report compiled by "one of the Tory party's biggest donors".
"But it has been noticeable that since last Wednesday, Number 10 has been moving towards more evidence-based policy. The reasons for that remain to be determined, but we can assume that as a result reports like this will be less prominent in the future," the source said.