Eurozone crisis hitting mortgages, says CML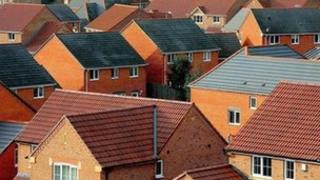 Mortgages - along with other loans - could become more scarce and more expensive if the eurozone crisis persists, a lenders' group has said.
Short-term prospects for the housing market were linked to the upheaval, the Council of Mortgage Lenders (CML) said.
Brokers said that borrowers should remain alert to the potential effect.
CML figures showed mortgage lending dropped away in April after a stamp duty concession led to an injection of activity earlier in the year.
Gross mortgage lending stood at an estimated £10.2bn during the month - a 19% fall on March, the CML said.
However, the figure was 2% higher than in April 2011.
"The underlying picture appears to be one of easing momentum in the housing market, but with potential for a sharper downwards correction on bad eurozone news," said Bob Pannell, CML chief economist.
Mark Harris, chief executive of mortgage broker SPF Private Clients, said borrowers needed to remain alert to the situation.
"The cross-border nature of banking means that UK banks cannot remain immune to what happens in the eurozone," he said.
"While interest rates are unlikely to rise for three to five years, supporting the market to an extent, borrowers must keep an eye on lenders raising mortgage rates regardless and take action if required and if they are able to."
Martin Stewart, director of independent UK mortgage broker London Money, said: "Few could argue that the demand for property, already weak, has been dealt a further blow by the deterioration of the eurozone.
"With apocalyptic headlines every day, who wants to commit to a transaction as big as moving house?"
Stamp-duty effect
The CML recently reported a spike in mortgage lending in March, but also predicted that lending levels would fall away.
Some first-time buyers were thought to have completed sales in March to beat the end of the stamp duty holiday.
First-time buyers who bought properties valued up to £250,000 were exempt from paying 1% stamp duty until 24 March, but now the concession has come to an end.
Chancellor George Osborne said it had been "ineffective" in increasing first-time buyer numbers.
"Mortgage lending activity has been relatively buoyant in recent months, with stronger lending for house purchase underpinning the more upbeat lending picture," said Mr Pannell.
"The underlying picture is likely to be a bit stronger than the April figure suggests, because some first-time buyers are likely to have brought forward their transactions to March to take advantage of the stamp duty concession that was coming to an end."