Germany restates opposition to eurobonds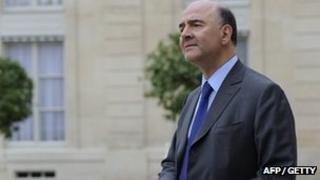 Germany has again stated its opposition to so-called eurobonds as the new French finance minister met his German counterpart for the first time.
Eurobonds are a proposal to issue debt on behalf of all 17 euro countries.
But a German minister said they would be the "wrong prescription at the wrong time".
Pierre Moscovici met German Finance Minister Wolfgang Schaeuble in Berlin with both agreeing Greece should stay in the euro.
Mr Moscovici said he had a "constructive" dialogue with Mr Schaeuble and added that Paris will respect its commitments to cut deficit.
In elections earlier this month, the majority of Greeks voted against those parties backing the drastic austerity measures that had been agreed with the EU.
"We have always said that as a first step we need solidity in European finances, and that is the fiscal compact," said Steffen Kampeter, a deputy finance minister, referring to the budget pact that 25 out of 27 European Union countries agreed to abide.
But that has been put in doubt by the election of French Socialist Francois Hollande, who wants to introduce eurobonds and amend the pact, and stands opposed to the austerity policies pushed by Germany.
'Knows France better'
Uncertainty over the situation in Greece and fears over the banking sector in Spain have pulled share indexes and the euro lower in the past few weeks.
President Hollande has said that Spain's banks might need more money to stay in business, but Economy Minister Luis de Guindos dismissed them out of hand.
Mr Hollande "probably knows the French banking sector better than the Spanish one", he said.
On Monday, Spain said that part-nationalised lender Bankia needs to strengthen its capital by as much as 7.5bn euros.
To put this in context, this is much bigger than the 4.5bn-euro loan it received from the Spanish bank bailout fund in 2010. Spain was forced to convert this into shares when Bankia was unable to pay it back.
After the G8 summit in the US, German Chancellor Angela Merkel insisted that there were no major differences between Germany and France, the eurozone's twin powers.
"France and Germany do not hold two opposing views," she said. "We want to give a signal that we are eager to see the global economy recover and that growth and consolidation are two sides of the same coin."
But France's new Prime Minister, Jean-Marc Ayrault, told the newspaper Liberation that politicians should consider all measures, including borrowing from the European Central Bank.
This came as an ECB policymaker said that Plan A - in fact, the the only scenario - is for Greece to remain in the single currency.
"As soon as you start talking about Plan B or Plan C then Plan A is automatically thrown out of the window," Joerg Asmussen said.
EU leaders are due to meet for an informal dinner in Brussels on Wednesday, where is there is no agenda but plans to broadly discuss ideas about stimulating growth and jobs.
This will be followed by a major summit at the end of June.