UK inflation rate drops to 3% in April, says ONS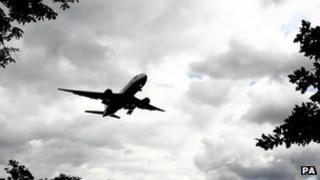 The UK inflation rate fell last month to its lowest since February 2010 owing to a slowdown in transport price rises and the timing of Easter.
The Consumer Prices Index (CPI) measure fell to 3% from 3.5% in March, the Office for National Statistics (ONS) said.
The Retail Prices Index (RPI) measure fell to 3.5% from 3.6% in March.
The Bank of England recently said CPI inflation would remain above the 2% target "for the next year or so".
The Bank's governor, Sir Mervyn King, said that the rate would stay above the government's target owing to a "storm" in the eurozone creating a threat to UK recovery.
However, this is the first time in this Parliament that Sir Mervyn has not had to write an open letter to Chancellor George Osborne to explain why the 2% target is being missed.
An open letter is triggered if the CPI rate remains above 3% or below 1% for three months in a row.
Hotel costs
Prices still rose in April, the figures show, but did so at a lower rate than for some time.
The CPI figure was the lowest since February 2010, when it was also at 3%. The last time it was lower was in December 2009, the ONS said.
CPI inflation peaked at 5.2% in September last year. It has fallen sharply since then, apart from a surprise rise in March.
The ONS said that the timing of Easter was significant for the figures in April. For example, transport prices were rising faster a year ago because some of the data was collected during the school holidays, unlike this time.
This meant that in the transport sector, prices rose by 1.2% compared with a 2.8% rise the previous year.
The largest downward effect came from air transport where fares rose 7.4% compared with a 29% increase a year earlier.
'Welcome relief'
Other factors behind the falling inflation rate included the cost of clothing, especially womenswear, and alcohol bought in off-licences.
In contrast, there were price increases between March and April in restaurants and hotels, as well as for those renting a home, the ONS said, although this was offset to a degree by falling energy bills.
"This [inflation rate] is a welcome relief to families on tight budgets," said the Chancellor, George Osborne.
"The Bank of England expects the rate to fall in the next year or so."
TUC general secretary Brendan Barber agreed that the slower rate was "a relief to millions of people", but pay was still failing to keep up with prices.
"With earnings growing by just 0.6%, people are still getting poorer every month," he said.
"We need falling inflation to be matched with far better pay rises to get people's incomes growing again. This will only happen when our economy is moving in the right direction."
Meanwhile savers also face a challenge to make a return on their funds.
"The rate of inflation means hundreds of thousands of savers need an account paying a hefty 3.75% before they earn a real rate of return on their savings," said Sylvia Waycot, of financial information service Moneyfacts.
"Yet, the average no-notice savings account only pays a disappointing 1.15%, showing the size of the problem many still face."
The inflation figures measure the rate at which prices are rising compared with the same month a year ago.
RPI and CPI are calculated differently, and also use slightly different baskets of goods and services. RPI includes mortgage interest payments and council tax, for example, while the CPI includes the cost of university accommodation and fees for stockbrokers.
Air and sea transport prices carry less weight in the RPI measure than the CPI measure, which explains in part why RPI did not slow as rapidly as CPI in April compared with March.