Japan's economy downgraded by Fitch on debt concerns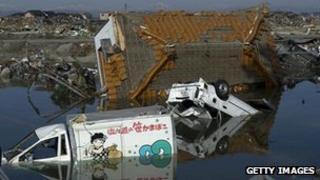 Japan's credit rating has been downgraded by two levels by rating agency Fitch on concerns about the country's high levels of debt.
Fitch cut Japan's rating to A+ from AA and warned that further downgrades were possible.
Japan has by far the highest debt to GDP ratio of any major economy, although much of this debt is held by domestic investors.
The government has spent huge amounts of money on trying to stimulate growth.
"The downgrades and negative outlooks reflect growing risks for Japan's sovereign credit profile as a result of high and rising public debt ratios," Fitch said.
"[Japan's] fiscal consolidation plan looks leisurely relative even to other fiscally-challenged high-income countries, and implementation is subject to political risk."
Following the downgrade, Japanese Finance Minister Jun Azumi said he would continue with plans to address rising debt levels.
"I would like to move ahead with fiscal reform, while making efforts to enact tax and social security reform bills," he said.
Strong growth
Japan's debts total more than twice its annual economic output, but because the majority of this debt is held domestically, the interest rate it has to pay to borrow money is very low - less than Germany and the US.
Unlike many highly-indebted countries in Europe, it therefore has no problems in raising funds to repay debts.
Last week, official figures showed that Japan's economy grew by 1% between January and March compared with the previous three months, as government spending helped fuel a recovery from last year's earthquake and tsunami.
That translates to an annualised growth rate of 4.1%, the government said, considerably higher than all eurozone economies, including Germany, and the US.
Prime Minister Yoshihiko Noda has pledged to spend more than 20tn yen ($249bn; £156bn) on reconstruction, money that the government has to borrow.
However, if strong growth can be maintained following the stimulus, the government will be more able to pay down some of its debts.